As we have stepped in the year of 2019, the profound impact of digital media is thoroughly visible via UAE digital media statistics 2019. The wonders of digitalized space are all the way the resultant of swelled internet usage, increased time spent on media and diversified device usage in UAE.
The population of UAE either Emiratis or expatriate community, are going digital beyond the boundaries through determining the best techniques of interacting with an audience entirely centered on the interests either personally or professionally. In the regard, have a look at how the internet users in UAE are enjoying the digital media presence and creating unique brand images in order to increase the followers' base.
What this UAE Digital Media Statistics 2019 contains?
Internet users in UAE
Device usage in UAE
Time spent with media in UAE
Internet use; Device perspective
Internet users; Different Perspective
Frequency of Internet use
1. Internet Users in UAE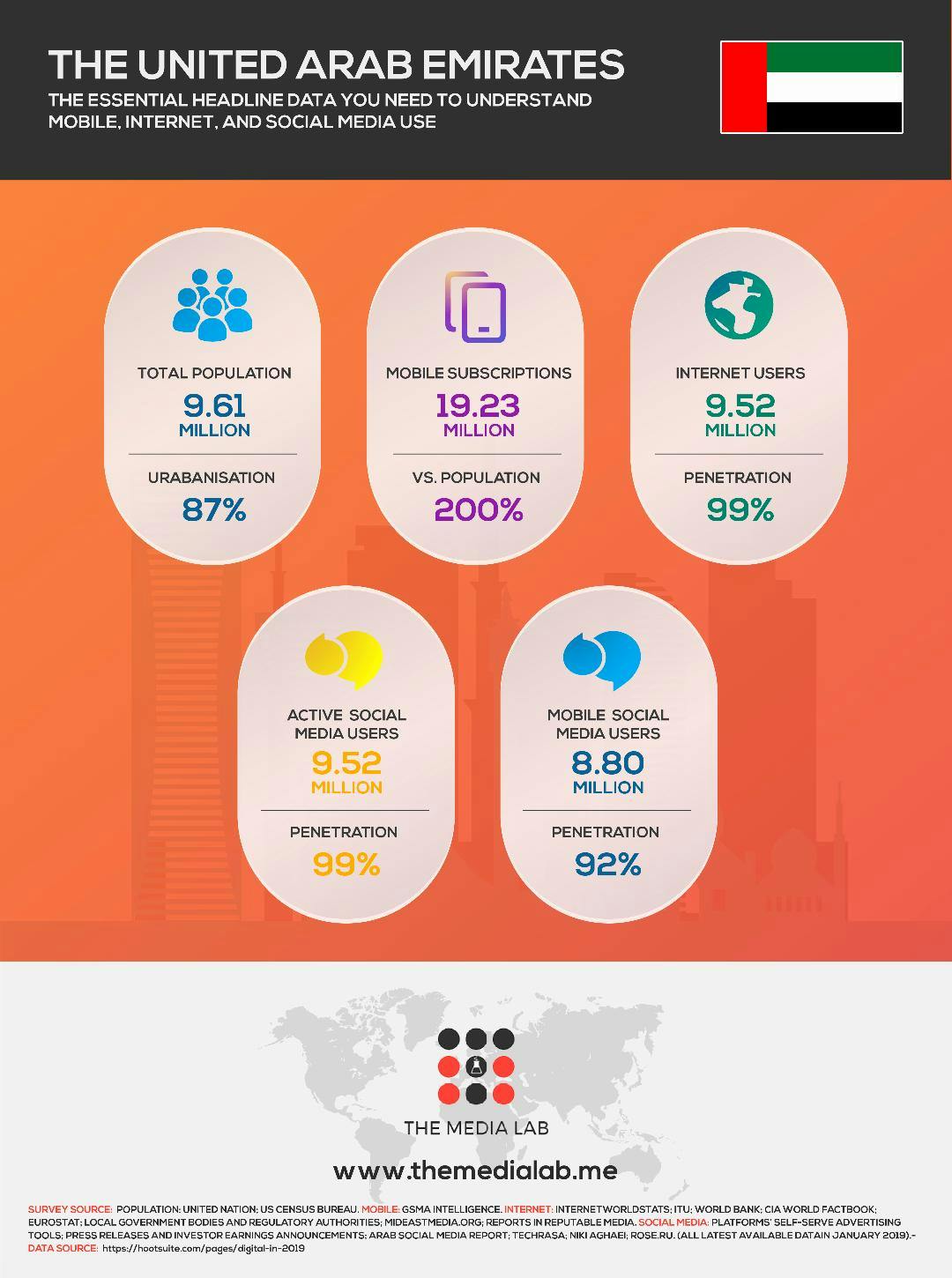 Concerning to Internet usage in the United Arab Emirates, out of 9.61 million population, the internet penetration is reported as 99% where 9.52 million people are active internet users.
Further the mobile social media users in UAE are also shown with colossal percentage of 92% under which 8.80 million people are actively social through mobiles. This immense internet usage in UAE is comprised of the mobile subscriptions having 19.23 million people indicated with 200% overall.
2. Device Usage in UAE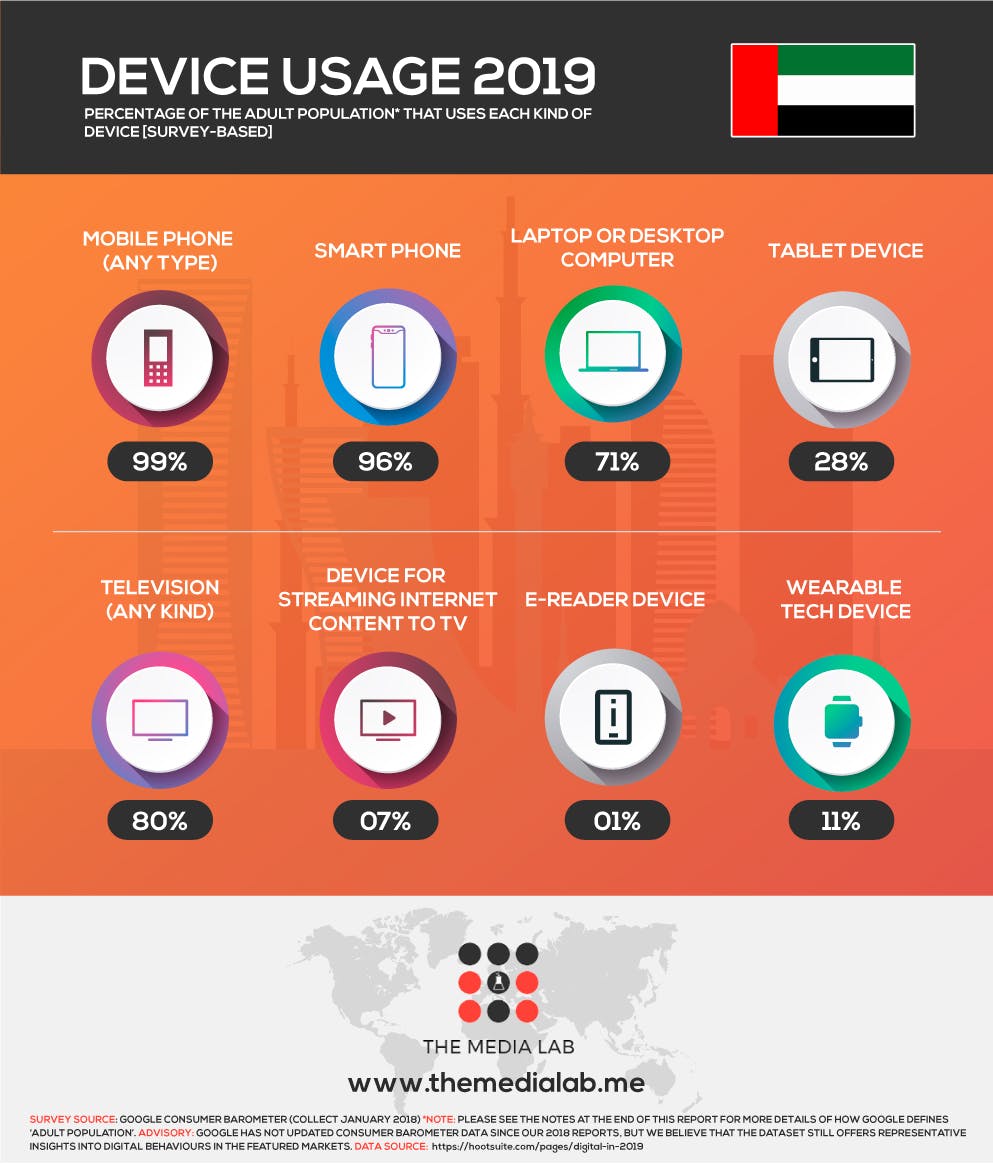 When it comes to device usage in UAE, the greater percentage is reserved by the mobile phones with 99% usage where laptop or desktop computers are reported with 71% usage. Under the UAE digital media statistics 2019, smartphone users in UAE are highlighted with 96% usage while tablet devices are used across 28% in the UAE region. Other device usage in UAE includes Television to 80% and 11% of wearable tech to use the internet.
3. Time Spent with Media in UAE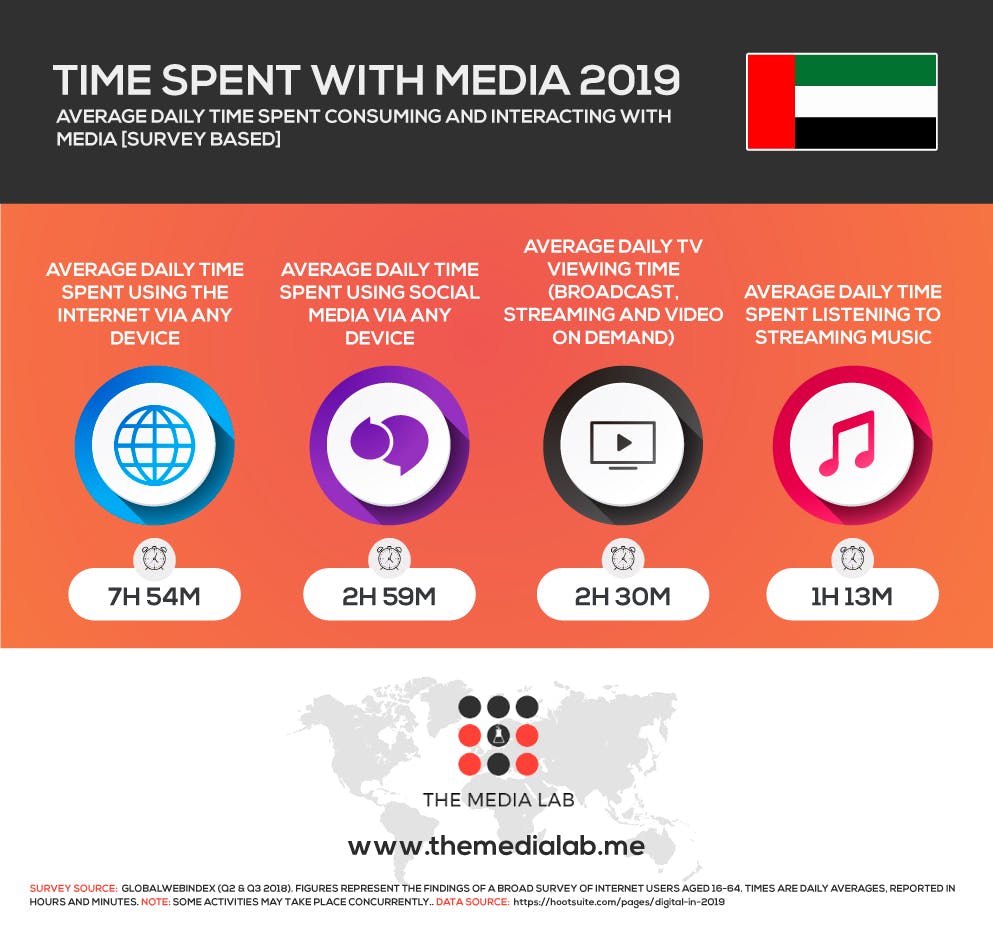 portion of time spent with media is through internet in UAE as average daily time a user spent is over 7 hours on the internet through any device.
However, it is also intriguing to see that average time spent on social media using any device is across 3 hours each day and TV viewing time is 2 hours 30 minutes while the average time spent on listening music in UAE is over 1 hour representing quite a significant portion of time in a day.
4. Internet Use: Device Perspective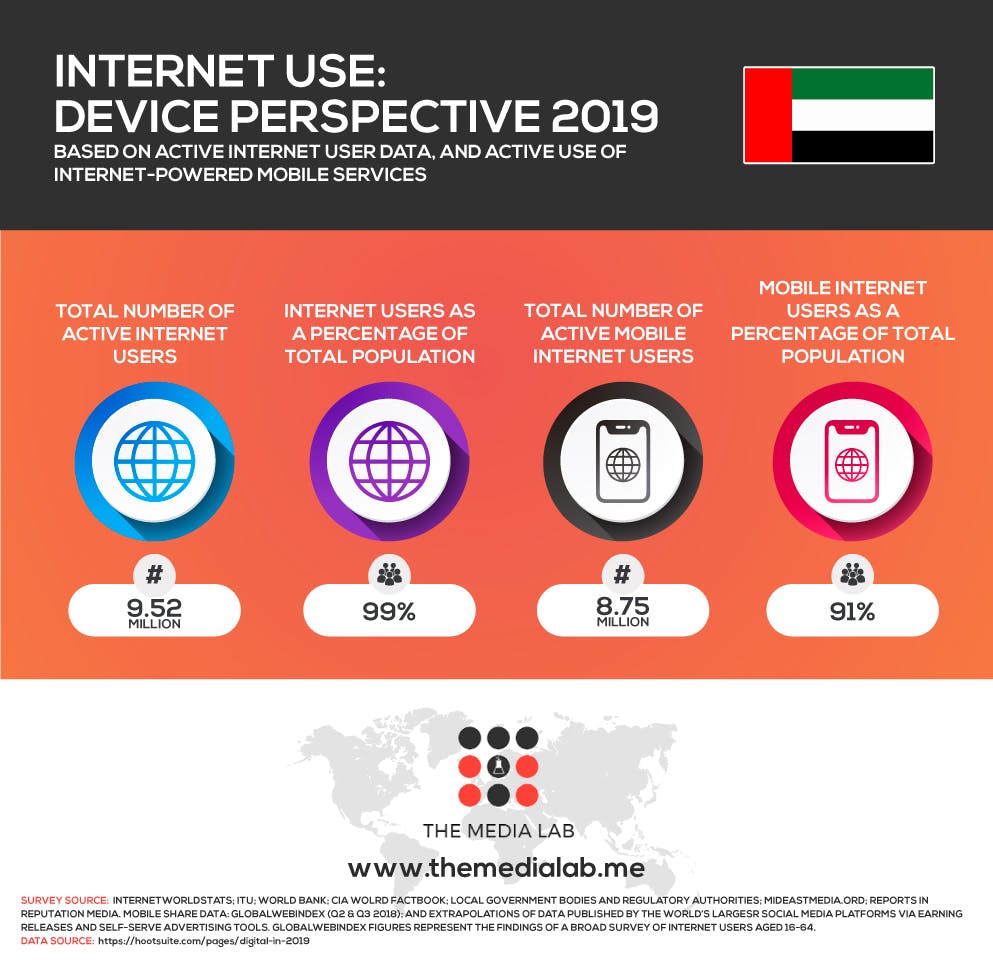 The UAE digital media statistics 2019 graph is representing the intensified internet usage in UAE shown with 9.52 million people among which 8.75 million people are active mobile internet users in UAE. Across the region, 99% of the population is termed as internet users while the massive percentage of 91% users are using mobile internet in UAE making the country ahead in the race of digitalization.
5. Internet Users: Different Perspective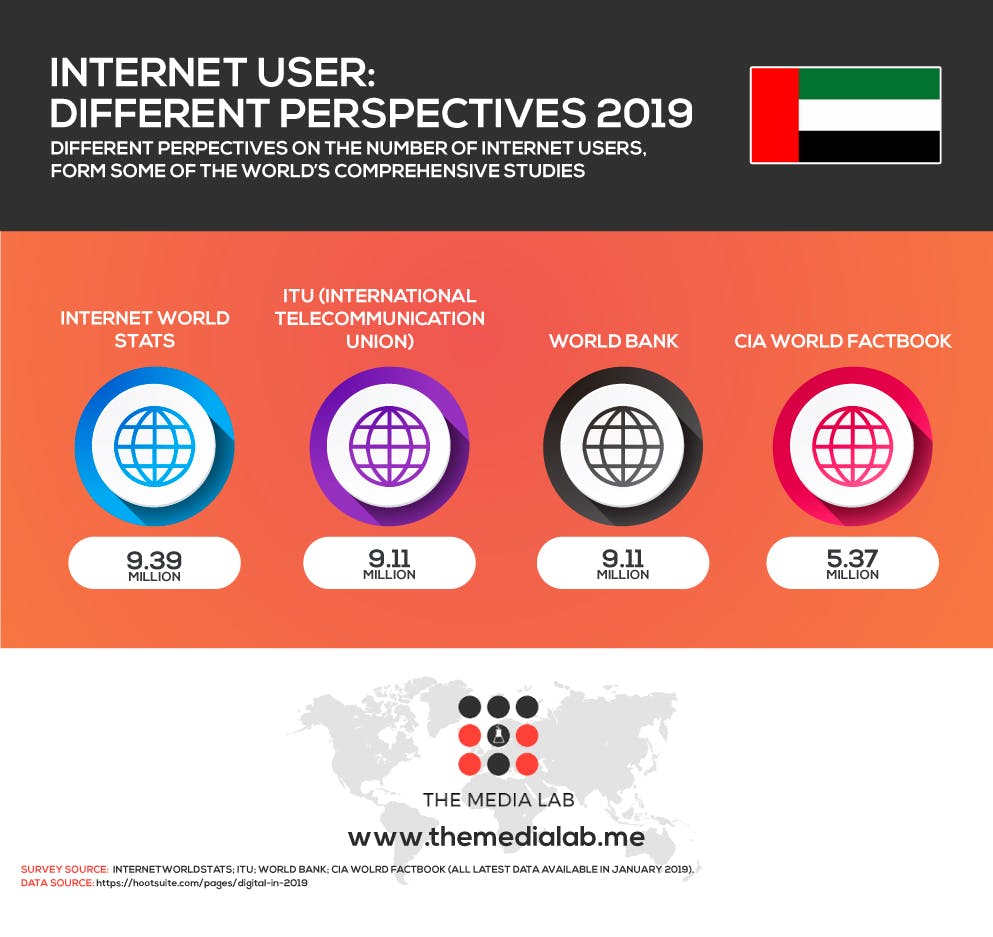 the aspect of internet usage across the world, 9.39 million people are reported as internet users while the International Telecommunication Union and World Bank are showing 9.11 million people thoroughly.
Internet users by CIA World Factbook are reported as 5.37 million people enlightening an evident technology spread. The presentation of these substantial figures are representing the rapid growth of digitally oriented world with the boom of the ecommerce industry specifically.
6. Frequency of Internet Use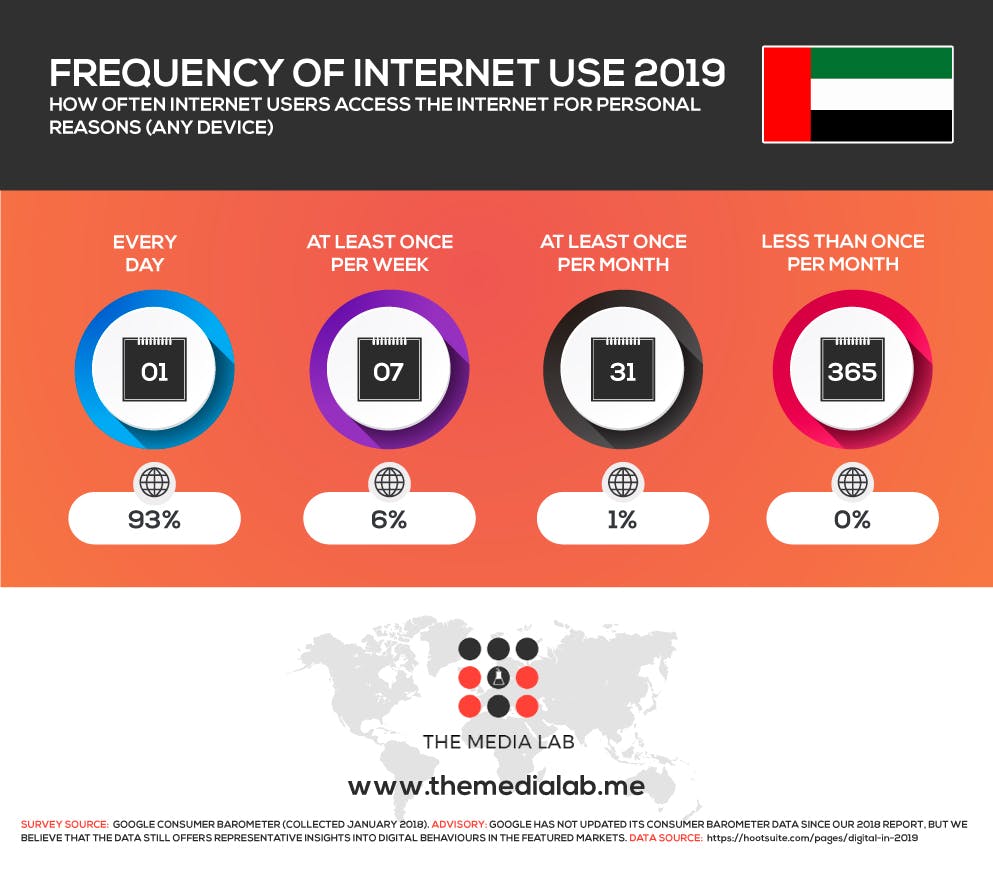 percentages are also inclining towards the frequency of internet usage as 93% people are active internet users in UAE who surf on daily basis via any device while there are 6% people who come to internet once per week. However, there is only 1% of the UAE population who uses internet at least once per month and apparently there 0% people without internet usage in UAE in this era of digitalization.
The deeply curated analysis is essential in developing the strategies of brands and stepping to success in this cut-throat competitive era.
But not every company has the capability to start roasting prospective customers or beating the competitors down the lane at once. That is where the need of digital media marketing professionals comes in. Here The Media Lab is carrying extensive experience in the digital industry of the Middle East.
Throughout the years, our professional digital strategists tap on the right nerves of the market and bring the target audience to the brands in a shorter time frame. If you have a brand to radiate to the world then talk to our competent digital team and let it win the market.
Source: Hootsuite