In the first quarter of 2019, We Are Social and Hootsuite have revealed the latest UAE social media statistics 2019 that are readily reporting an avid development in the usage of social media, internet usage and Ecommerce.
Digitalization is going beyond the thoughts of everyone as innovation in usage of social media is taking place every other day.Either it is individual or brands, the exploration of digital media is creating hype at frequent stages.
Table of Contents
UAE Social Media Overview in 2019
Most active social media platforms in UAE
Social Media Advertising Audiences 2019
Facebook users in UAE
Instagram users in UAE
Twitter users in UAE
Snapchat users in UAE
LinkedIn users in UAE
UAE Social Media Statistics 2019 - Most Active platforms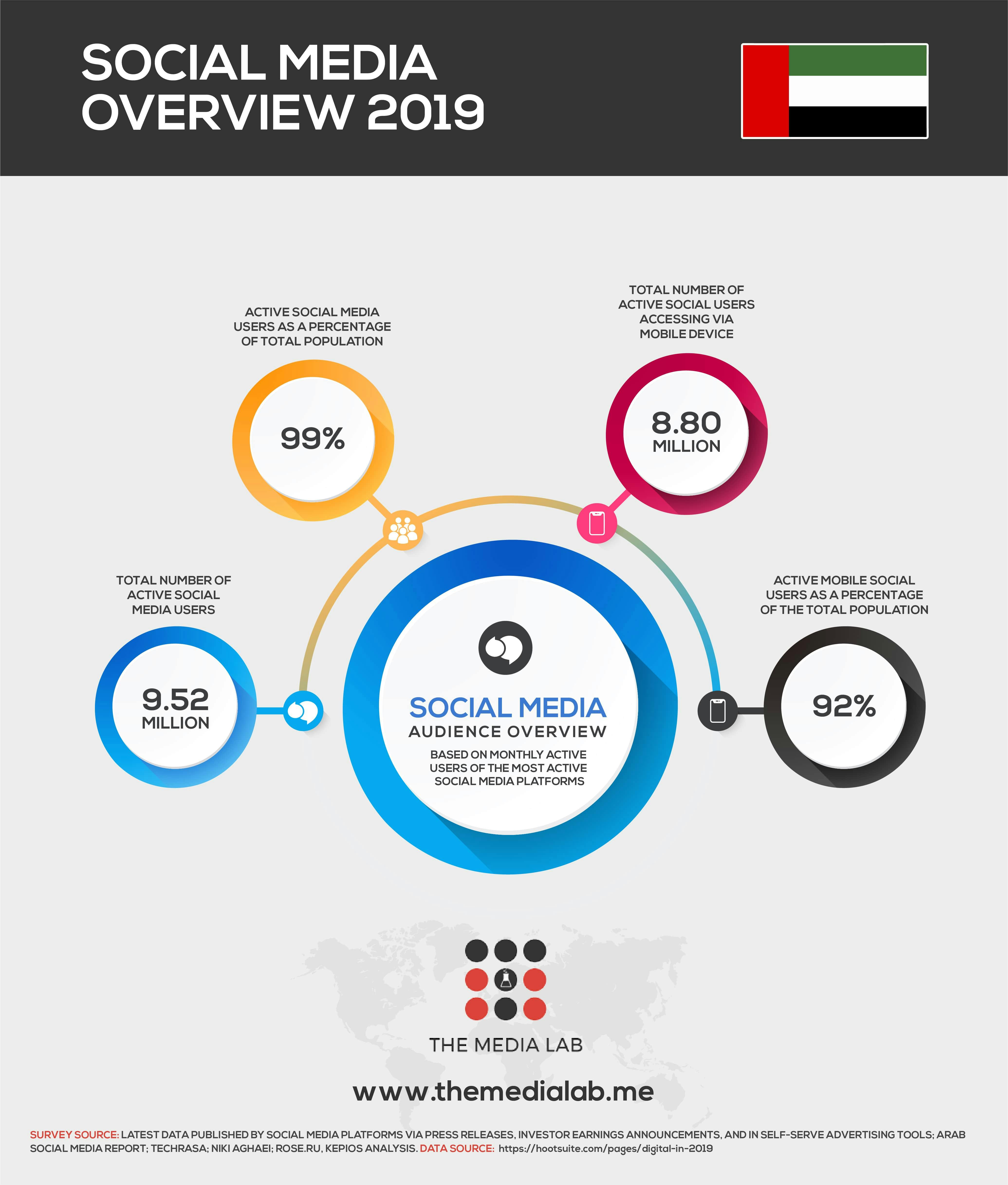 Evidently, the latest reports by Hootsuite and We are social are showing the accelerated figures of internet usage in the United Arab Emirates as out of 9.61 million population; the internet penetration is reported as 99% where 9.52 million people are active internet users in UAE.
Further, the mobile social media users in UAE are also shown with gigantic percentage of 92% under which 8.80 million people are actively social through mobiles. This immense internet usage in UAE is comprised of the mobile subscriptions having 19.23 million people indicated with 200% overall.
Most Active Social Media Platforms in UAE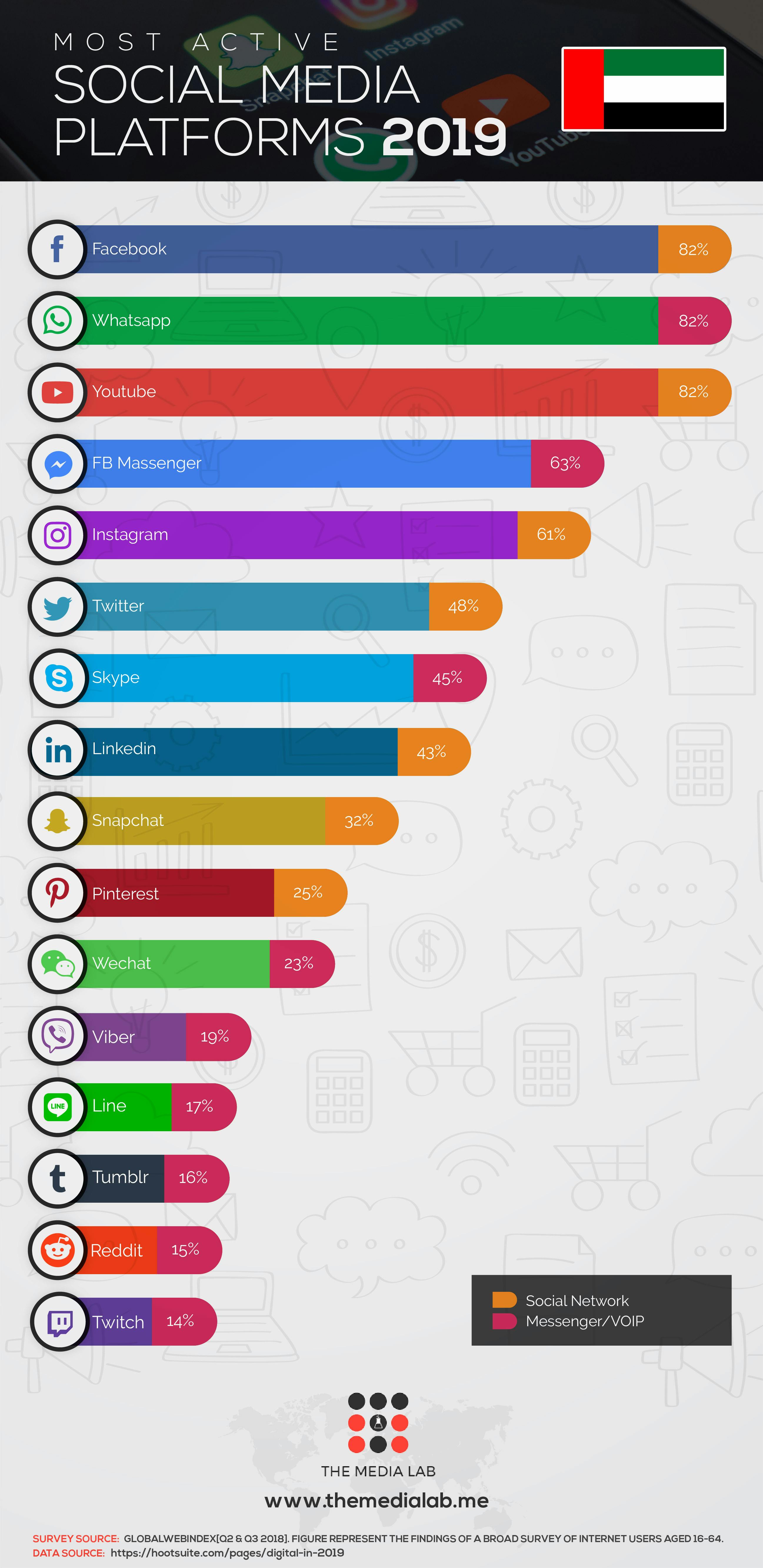 Maintaining the reputation from past years, the position for most used social media platforms in UAE are acquired by Facebook, Whatsapp and Youtube retaining same usage percentage of 82% across the UAE region.
The other leading positions after these platforms are obtained by Facebook messenger with 63% closely followed by Instagram appearing in charts with 61% usage overall. Other social and messaging platforms in the list include Twitter, Skype, LinkedIn, Snapchat, Pinterest, Viber, Tumblr and more with some substantial penetration.
Social Media Advertising Audiences 2019
Apparently, Facebook users in UAE is in leading position as compare to other social networking platforms.
However following this platform, professional network LinkedIn is joining the race with 4 million users while Instagram users in UAE are also growing to greater extent having 3.70 million people on the platform as of now.
Platoform Facebook
Monthly Active User 8.80 million
Male (%) 74%
Female(%) 26%
Platoform Instagram
Monthly Active User 3.70 million
Male (%) 62%
Female(%) 38%
Platoform Twitter
Monthly Active User 2.30 million
Male (%) 68%
Female(%) 32%
Platoform Snapchat
Monthly Active User 2.05 million
Male (%) 43%
Female(%) 56%
Platoform LinkedIn
Monthly Active User 4 million
Male (%) 71%
Female(%) 29%
1. Facebook Users in UAE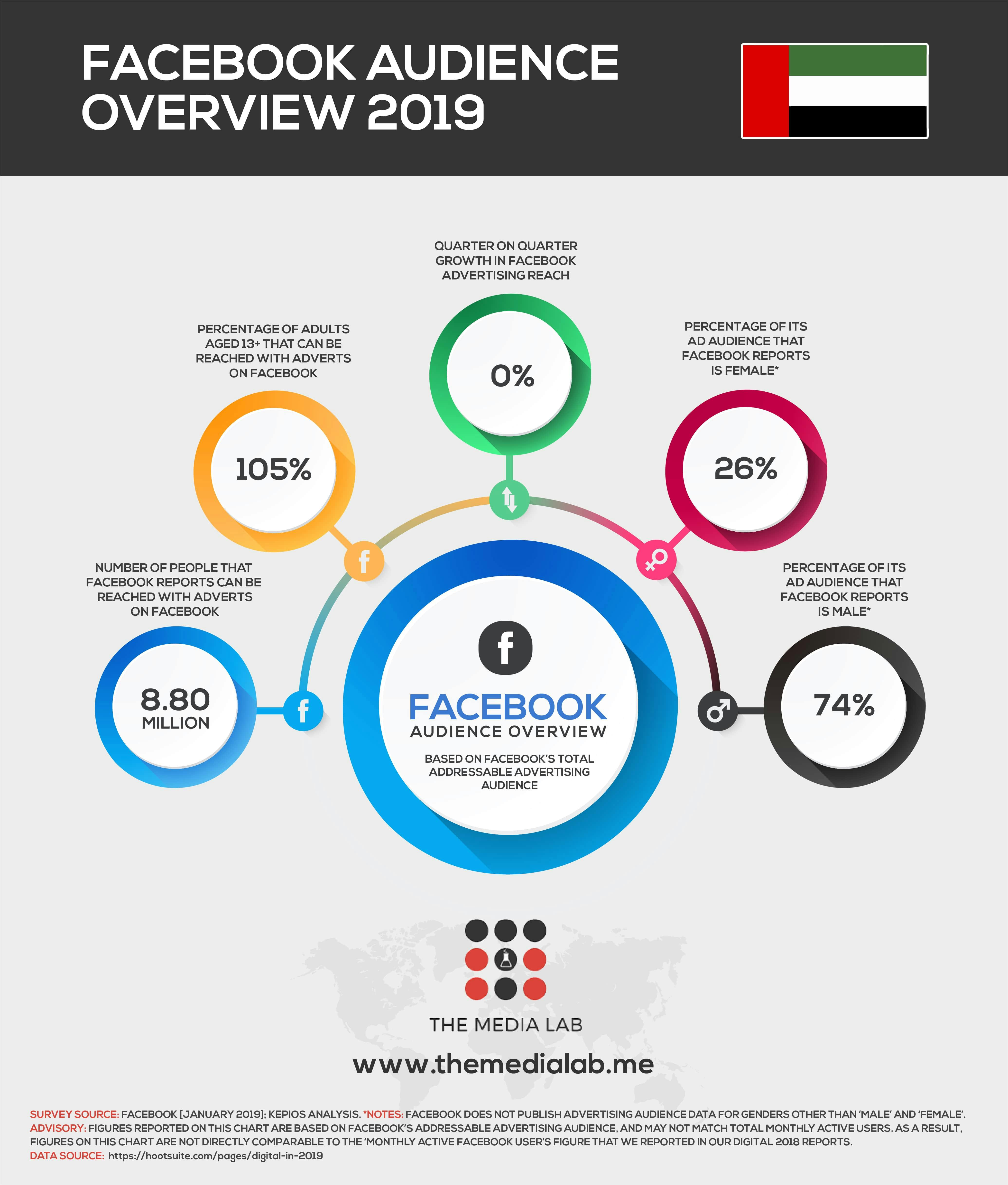 UAE Social media statistics 2019 is unveiling the immense number of addressable advertising audience carried by Facebook in UAE having 8.80 million people. With the massive 74% percentage of male users and 26% of female representation.
2. Instagram Users in UAE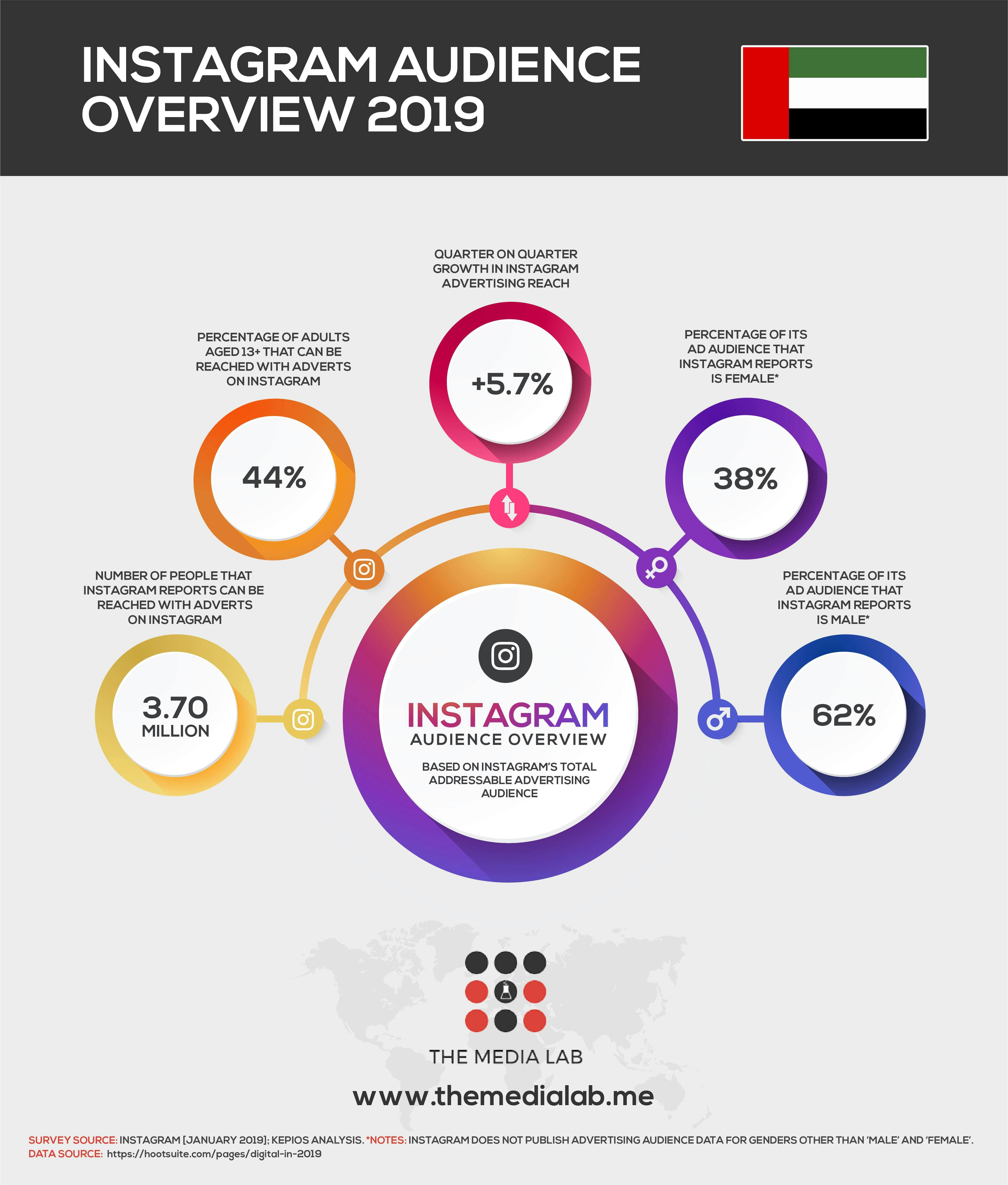 Reachable Instagram users in UAE through adverts are also revealed as surged ones with the presence of 3.70 million people at the platform.
The survey graph is showing the noticeable percentage for male users with 62% alongside the female percentage of 38% leading to quarter wise growth by more than 5.7%.
3. Twitter Users in UAE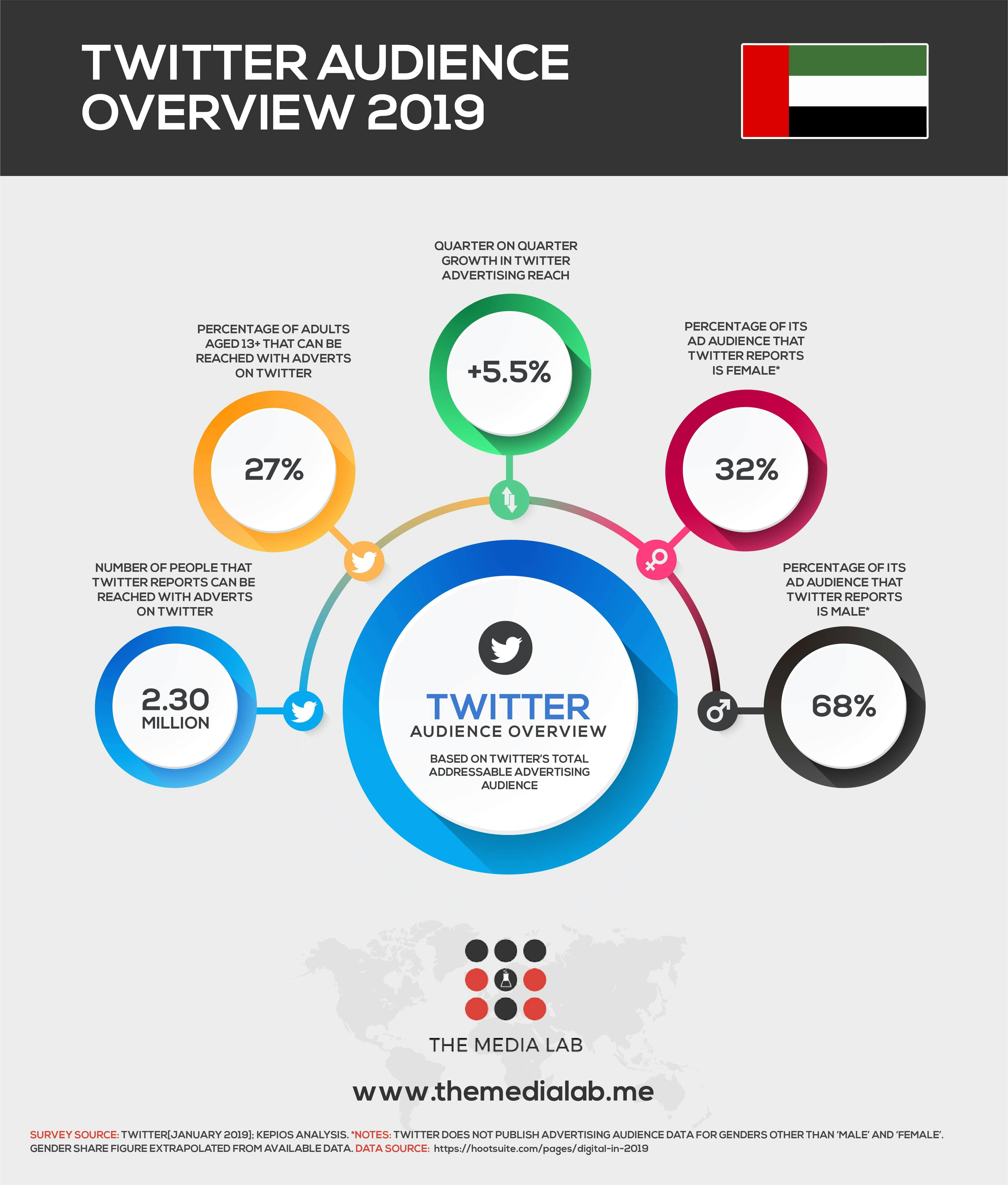 The social networking platform Twitter is also prominent as possessing 2.3 million audience with 5.5% growth on a quarterly basis in UAE social media statistics 2019 report. The Twitter users in UAE include 68% of male and 32% female ratio representing the great interest of users in the respective platform.
4. Snapchat Users in UAE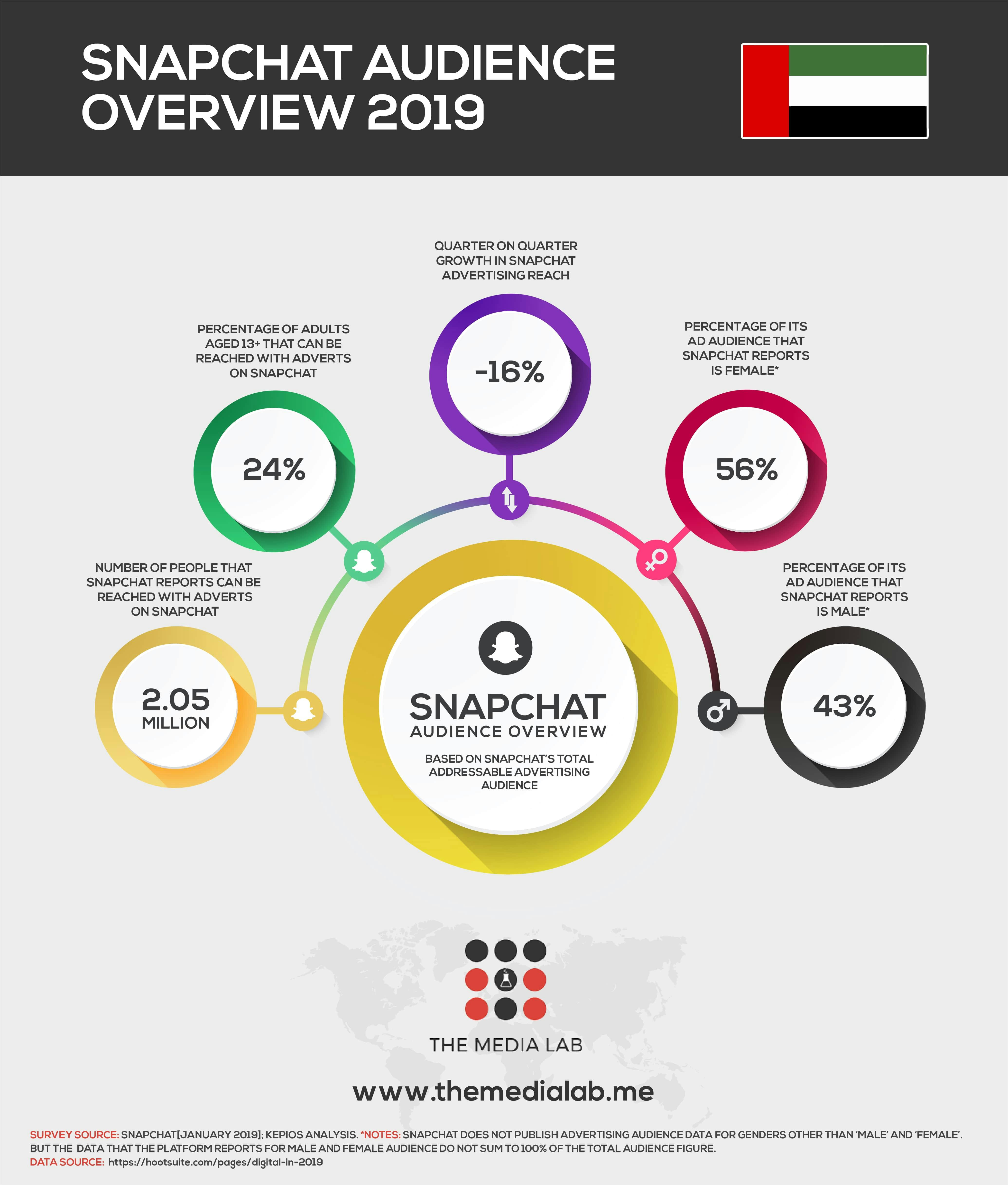 One of the distinctive social snapping platforms is encompassed with 2.05 million people where female ratio is massive as opposed to other platforms. The UAE social media statistics 2019 states the 56 % of female Snapchat users in UAE while the male users are shown with 43% in the survey.
5. LinkedIn Users in UAE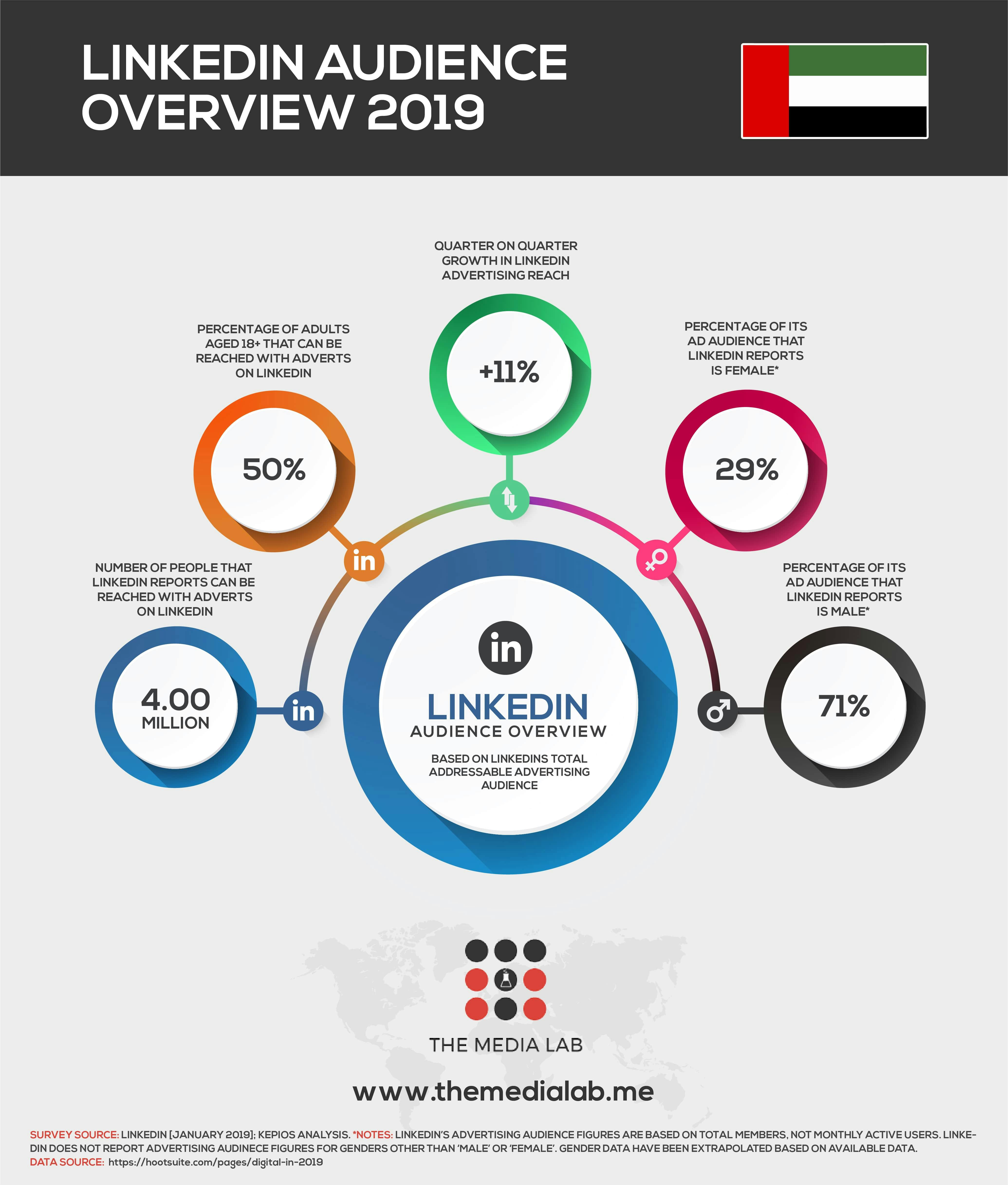 The professional network is holding 4 million users with 71% reachable male audience and female audience is represented with 29% overall.
Besides the apparent percentage of LinkedIn users in UAE, the prominent growth of this network is revealed with up to 11% on quarterly basis.
The digital technology has substantially increased the chances of reaching to great number of audience leading to cross the success milestones. At the Media Lab, we have all diversified and modernized technological tools with proficient knowledge of the industry and in-depth insights to increase our clientele business revenues and reputation.
Talk to us for exploring the influential digital marketing strategies including the awesome web designs and best SEO with effective social media strategies of Dubai.
Data Source: Hootsuite