With the boom of smartphones, USA social media statistics 2019 have avidly seen a persistent growth where more brands are significantly relying on the social media platforms to reach the target audiences. In the last two decades, social media has turned into full-blown communication channels both personally and professionally.
USA Social media statistics is ultimately showing the scattered consumer attention to diversified social media platforms, not just only apps but all other online platforms. The conductive environment for digital technologies in USA has grown to greater extent making it to the frame of top-notch innovations.
Through USA statistics 2019 report, we are keeping a track on how the digital landscape has evolved throughout the spell.
Table of Contents
Most active social media platforms in USA
Social Media Advertising Audiences 2019
Facebook users in USA
Instagram users in USA
Twitter users in USA
Snapchat users in USA
LinkedIn users in USA
1. USA Social Media Statistics 2019- Most Active Social Media platforms in USA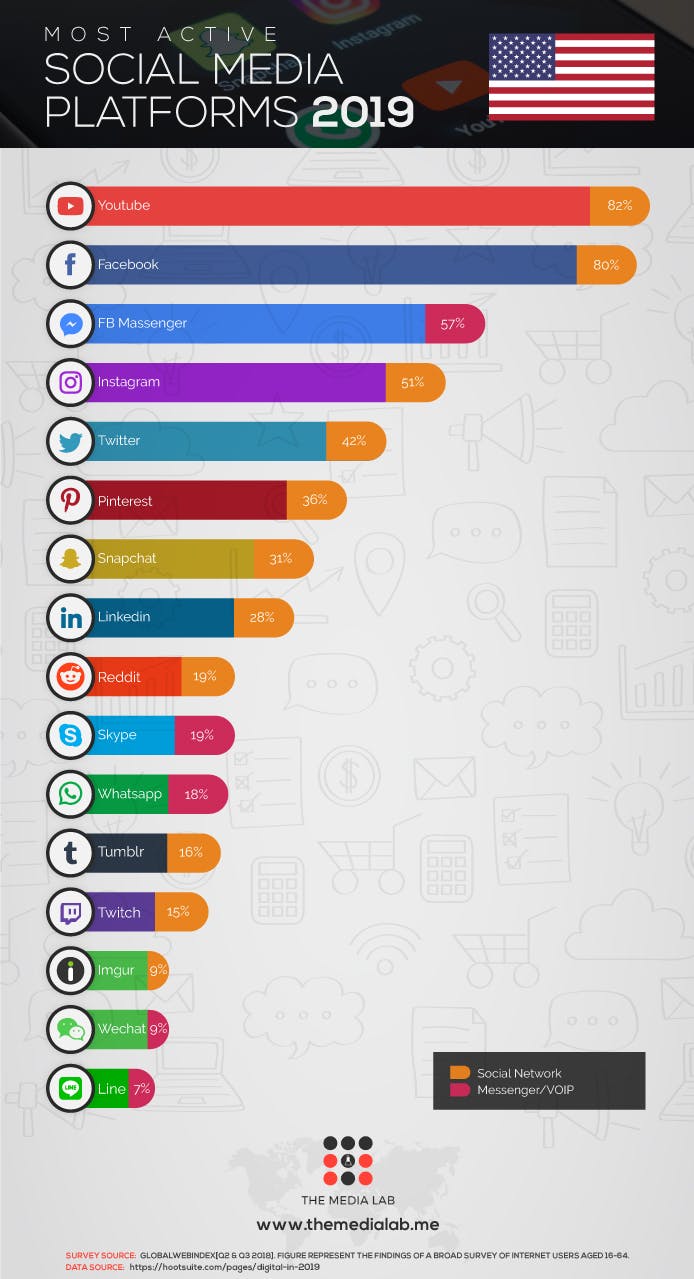 When we turn our head to most active social media platforms in USA, Youtube pops up with 82% penetration in the USA social media statistics 2019 report. Closely followed by the Youtube, Facebook is retaining the second position with 80% usage across the region. Facebook messenger is also consuming time of people in USA as it is being used 57% throughout USA.
However penetration for social media platforms like Instagram, Twitter, Snapchat, Pinterest, LinkedIn and other are also rooted to surge the popularity of social networking sites in the USA.
2. Social Media Advertising Audiences 2019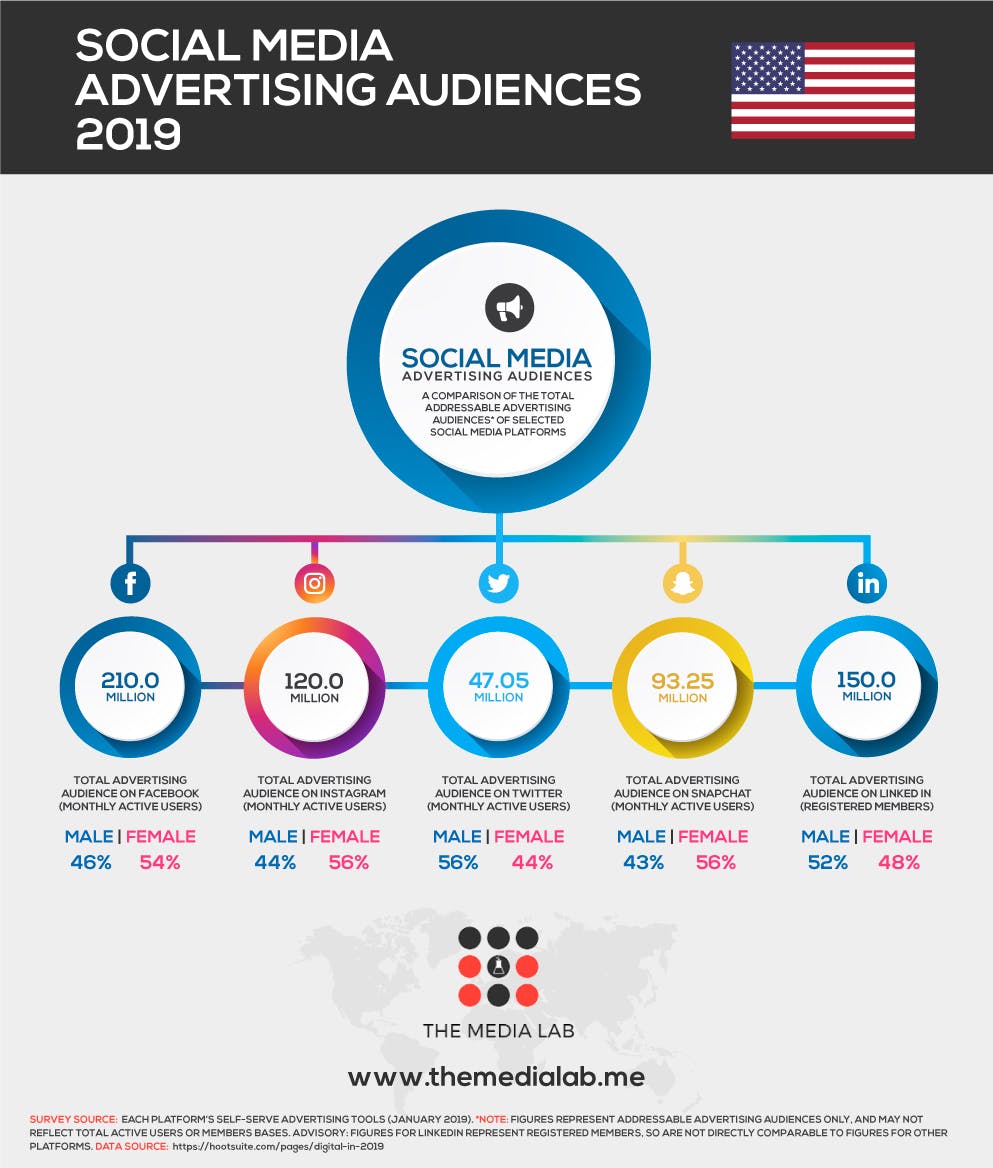 The prominent role in the boom of social media has played by the Facebook that is holding the crown of most used social media platform in USA.
It is apparent that Facebook users in USA are 210 million comprising 54% of female users and 46% of male Facebook users in USA.
The professional network LinkedIn is following the winning footsteps of the Facebook and possessing 150 million users in USA. There are 52% male and 48% female who are being career oriented recognized as the active LinkedIn users in USA whereby Instagram users in USA are also in a good position carrying 120 million people within the platform.
Further, Snapchat and Twitter are maintaining some sensible reputation with substantial penetration of 93.35% and 47.05% respectively.
3. Facebook users in USA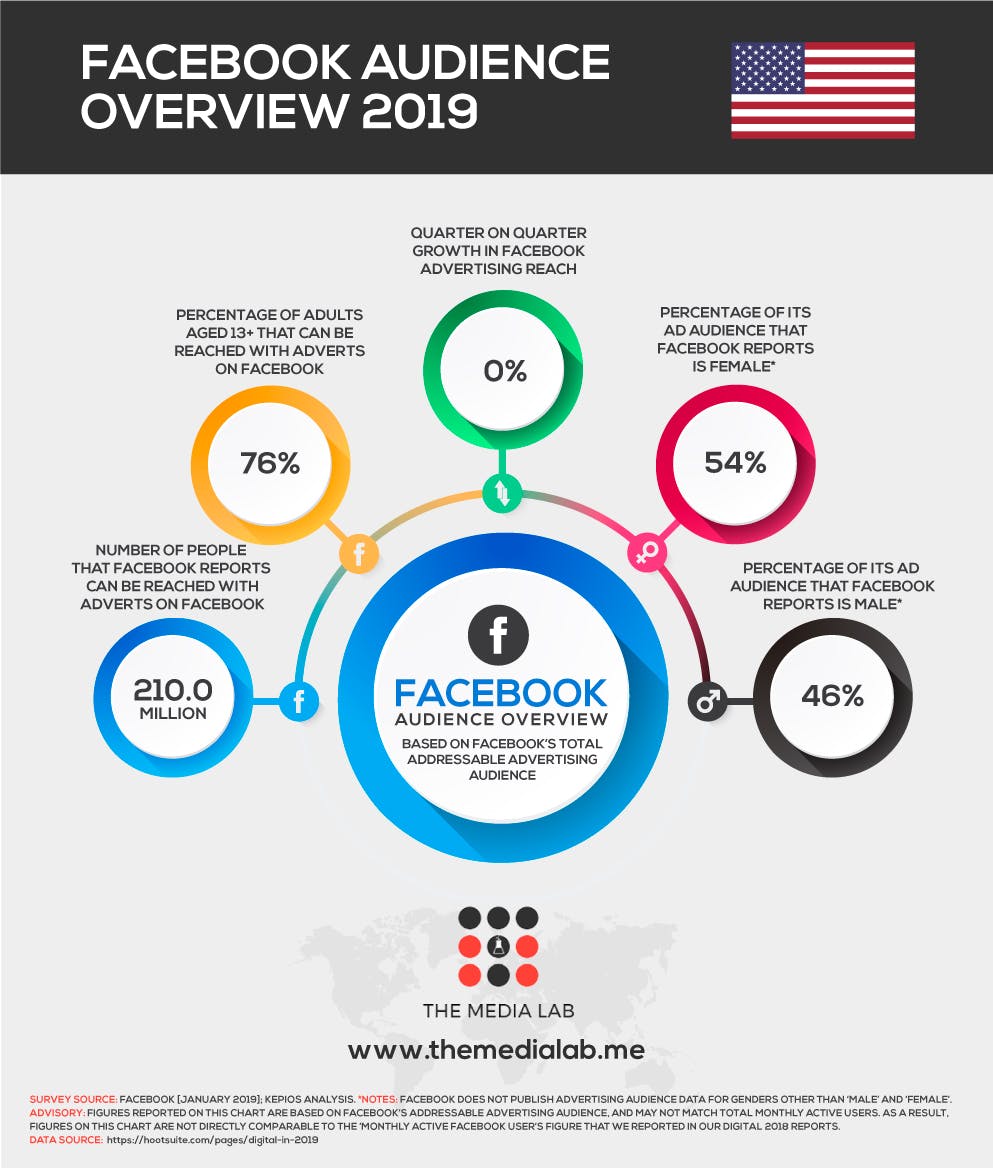 USA Social media statistics 2019 is readily showing how people in USA are embracing new ways for telling stories and sharing narratives via social media and Facebook is the biggest platform to do the specified. Facebook in USA is possessing 210 million users overall encompassing 46% male and 54% female representation. However 76% of the Facebook users in USA are above age 13 that are reachable through adverts at the platform.
4. Instagram users in USA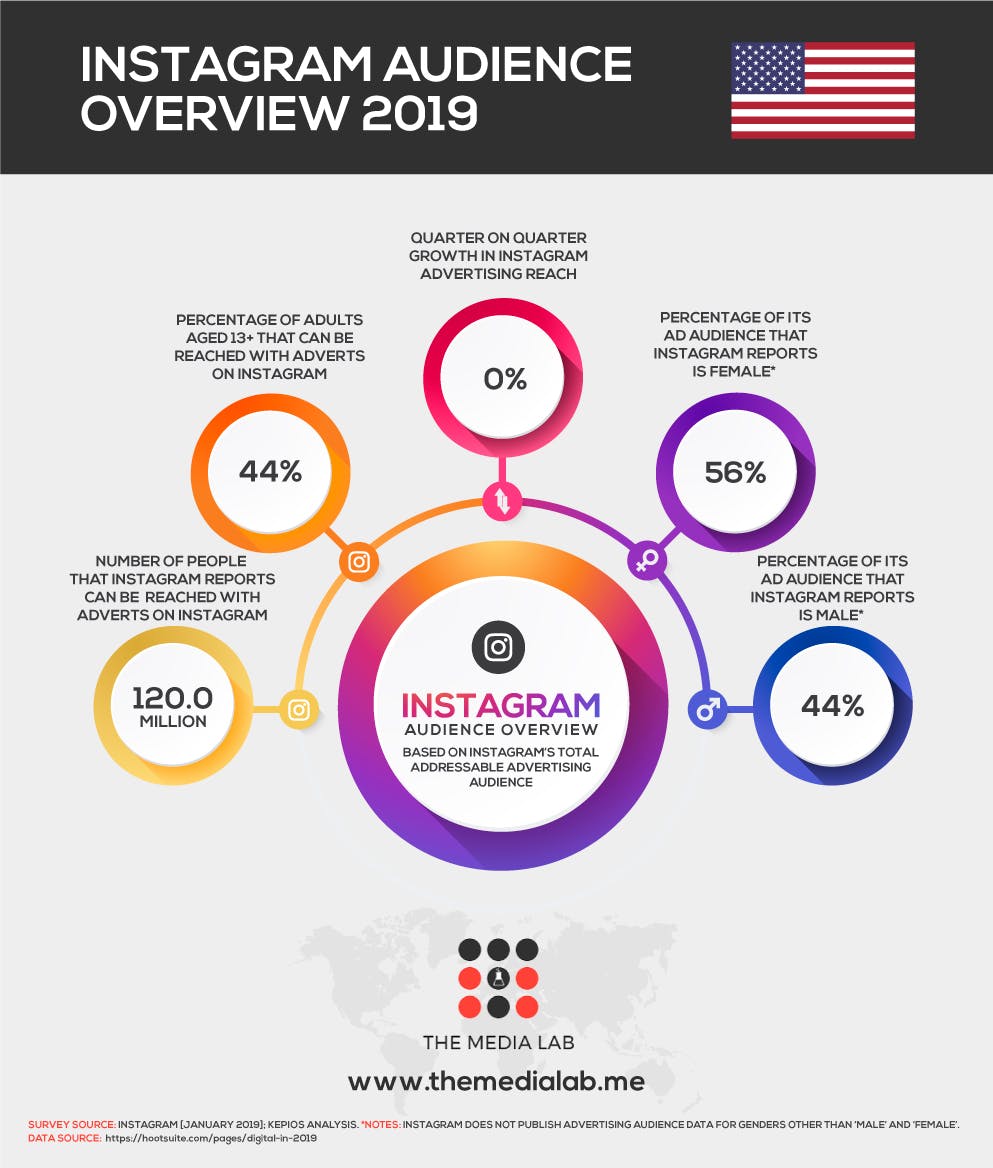 Instagram has quite a lot changed the way people consume social media content and Instagram users in USA are an avid proof of that trend change.
Reachable Instagram users in USA are 120 million that are opening doors to share more real time stories of their own. Interestingly the USA social media statistics 2019 is showing the noticeable 56% of female while there are 44% male at the platform with 0% quarterly growth for advertising reach.
5. Twitter users in USA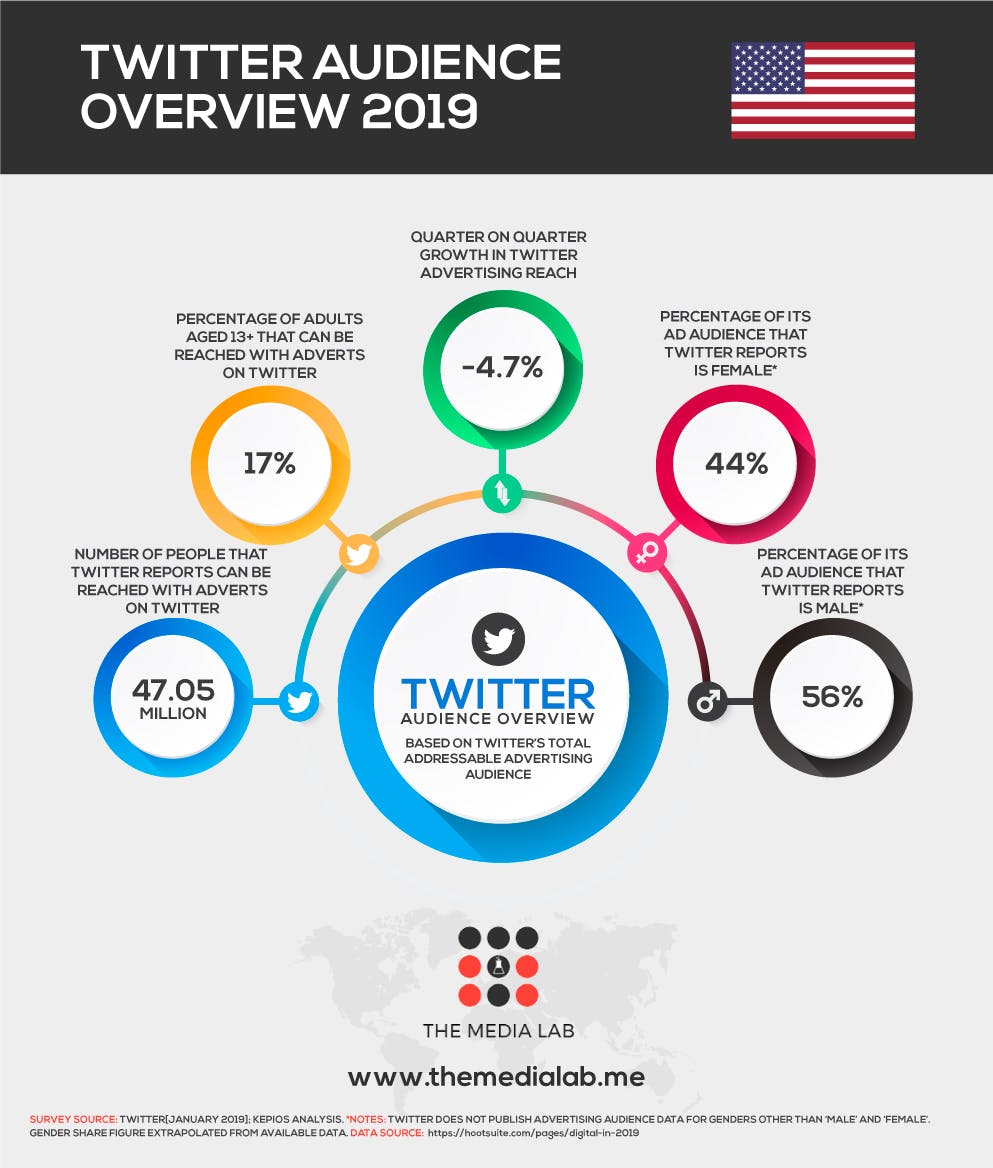 The microblogging site of Twitter is also prominent in sharing and inspiring other with the opinions and stories.
Twitter in USA is holding 47.05 million audiences with negative growth figures on a quarterly basis in the survey. The Twitter users in USA is comprising of 56% of male and 44% female ratio that are enjoying their socially active image through this social media space.
6. Snapchat users in USA
Snapchat in USA is already riding the trend wave by exploring the newest stickers every day. The social media statistics 2019 is revealing the great penetration of snapchat users in USA. The distinctive platform is carrying the large following of 93.25 million people where 56% of female and 43% male are fostering their presence at this snapping platform.
7. LinkedIn users in USA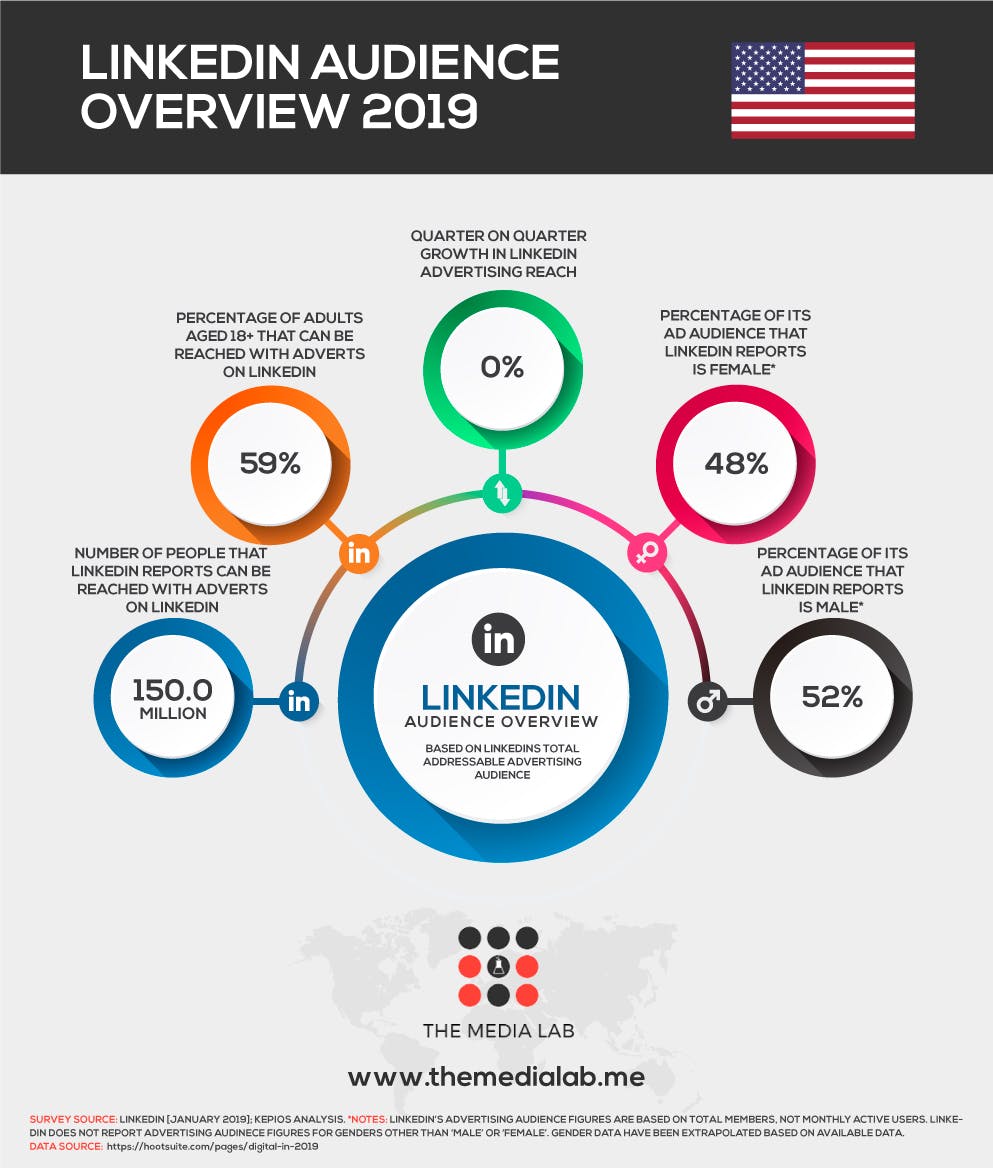 The professional network LinkedIn in USA is continuing to flourish by going ahead on the growth curves with 150 million people inclusively. Under this platform, 48% female and 52% male are connecting with right people and robust opportunities existed in their specified fields. Apart from this statistics, 59% of LinkedIn users in USA are stated as reachable audience through advertising.
With the evolving stages of social media, all businesses need to stride up their game. This all can be done through proper audience filtering and digital media marketing techniques. If you have some business thoughts in your head and want to make it fly then talk to our professional digital marketing team embraced with best and powerful tools to conquer the industry.
Data Source: Hootsuite