When it comes to the UAE population statistics 2019, it is inevitable to observe the latest changes happening over the few decades. Over the years, the technological transformation has boosted all along resulting in changing demographics and infrastructure of the country.
As compared to previous years, the UAE population has undergone extreme diversity and the major reason is its ever-growing expatriate community having a great impact on the culture of the country. Under this post, we are going to explore different factors including demographics, religion, nationality and others to see how the region is going through certain changes throughout the duration of years.
This article is composed after reviewing different sources for the UAE population Statistics 2019. Different sources have explored their own methodologies to come across certain population figures. So here we are stating those figures along with the World Bank stats to remain more accurate and understandable at points.
Table of Contents
What is the Population of UAE in 2019?
UAE Population statistics 2019 from different sources
What percentage of expats in UAE?
Expat population in the UAE
Country wise UAE Population by Nationality
Which is most populated Emirate in UAE?
UAE Population by Emirates
Social Media users in UAE in 2019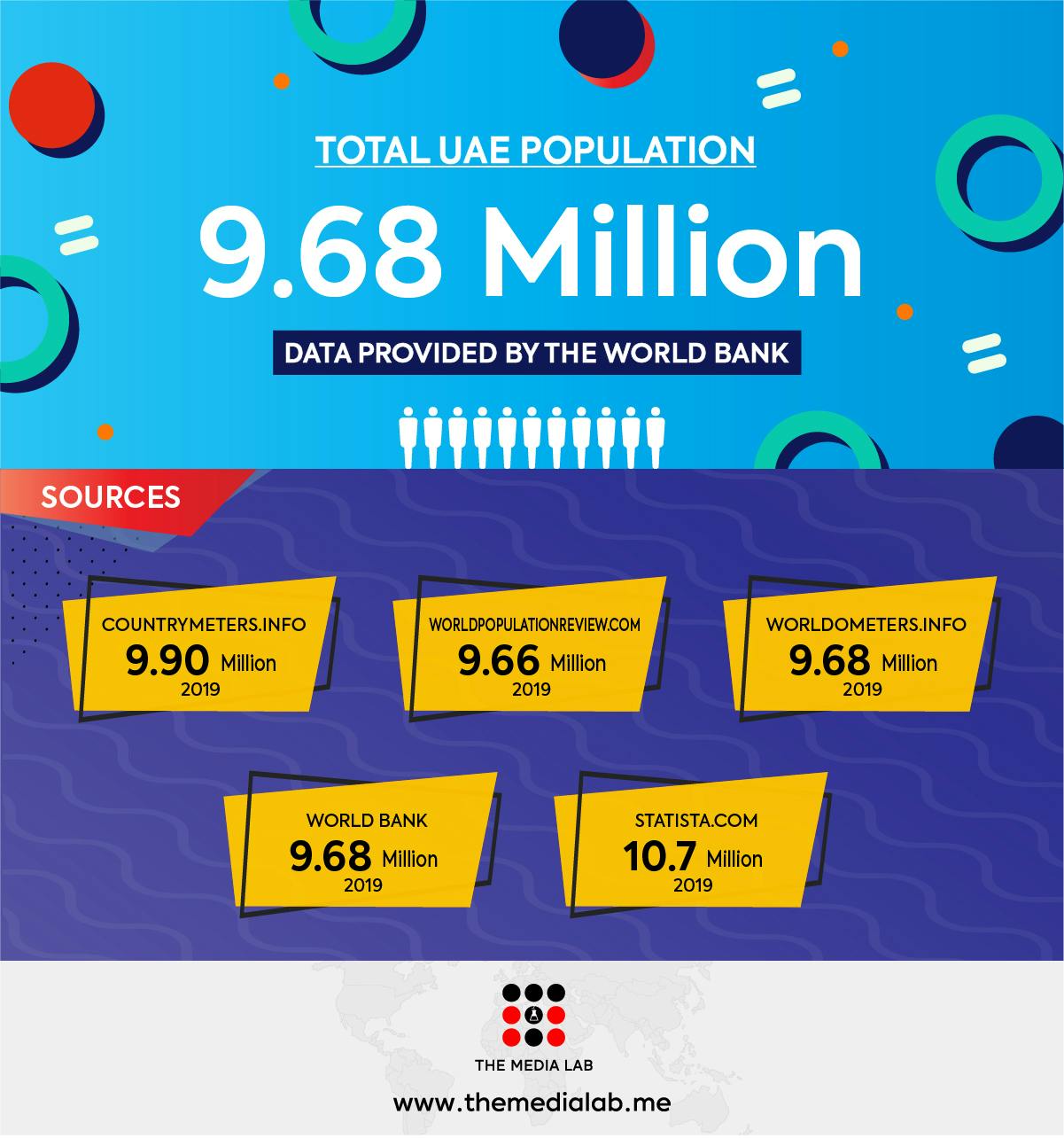 What is the Population of UAE in 2019?
The UAE Population in 2019 is 9.68 Million according to the data provided by the World Bank. Almost all sources are coming up with some difference in figures and growth of population. Seemingly, this growth is fetching diversity and making country ethnically and culturally diverse throughout different scales.
Here we have listed out these different population figures gathered through varied sources.
2. UAE Population statistics 2019 from different sources
World Bank 9,682,000
Census.gov 9,800,000
CountryMeters.info 9,900,715
Worldometers.info 9,682,088
PopulationPyramid (Estimation) 9,822,014
Statista.com 10,750,000
Worldpopulationreview.com 9,665,262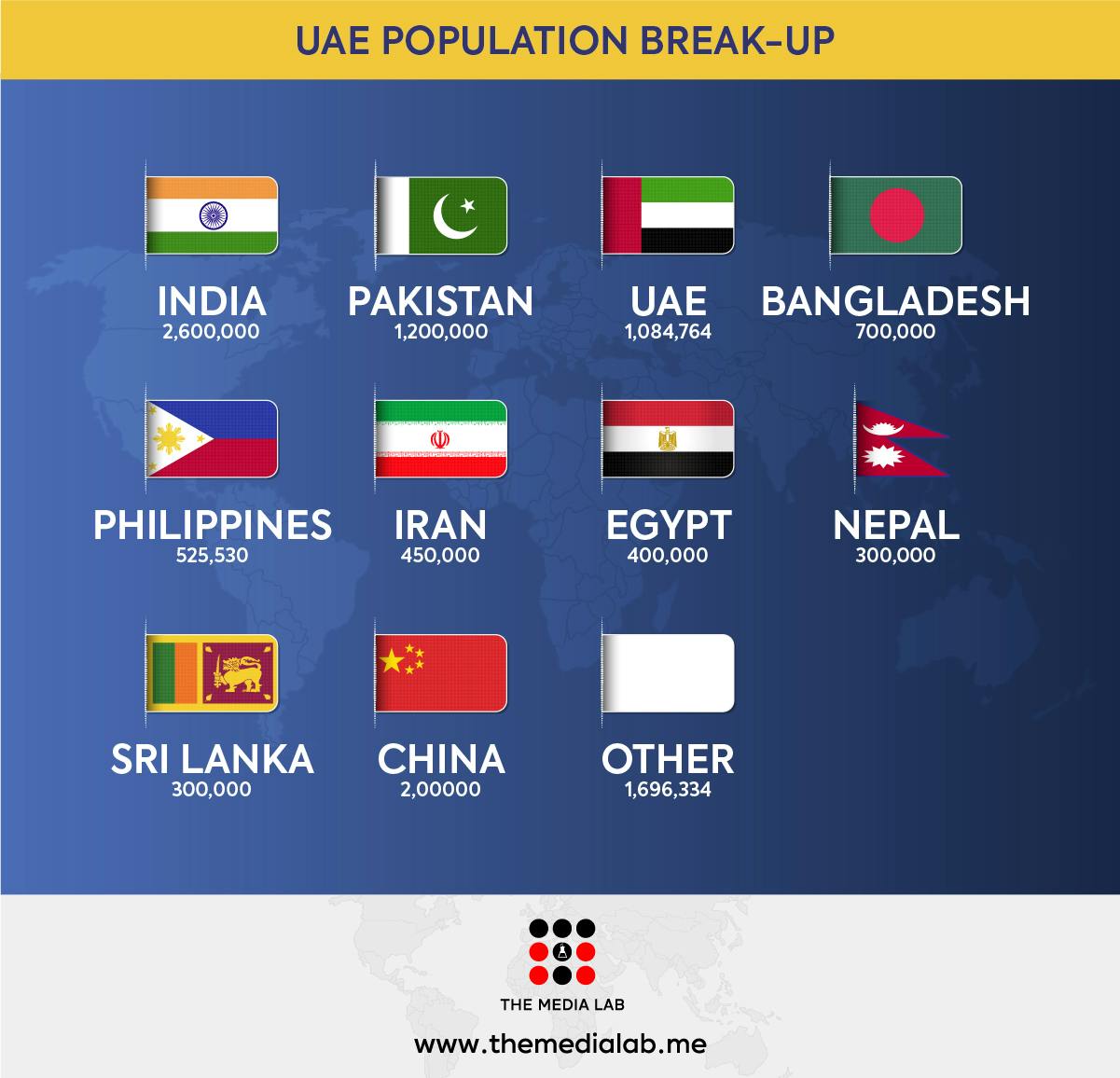 3.UAE Population break-up
The larger proportion of UAE population is occupied by the expatriate's community in recent years. When we look upon the stats of expatriates, Indian community is leading the graph here followed by Pakistani community as per the specified source.
Other countries in the expatriate's community include Bangladesh, Philippines, Iran, Egypt, Nepal, Sri Lanka and China.
India 2,600,000
Pakistan 1,200,000
UAE 1,084,764
Bangladesh 700,000
Philippines 525,530
Iran 450,000
Egypt 400,000
Nepal 300,000
Sri Lanka 300,000
China 200,000
All other countries 1,696,334
It is interesting to see that UAE citizens constitute 13% of total population as per the stats.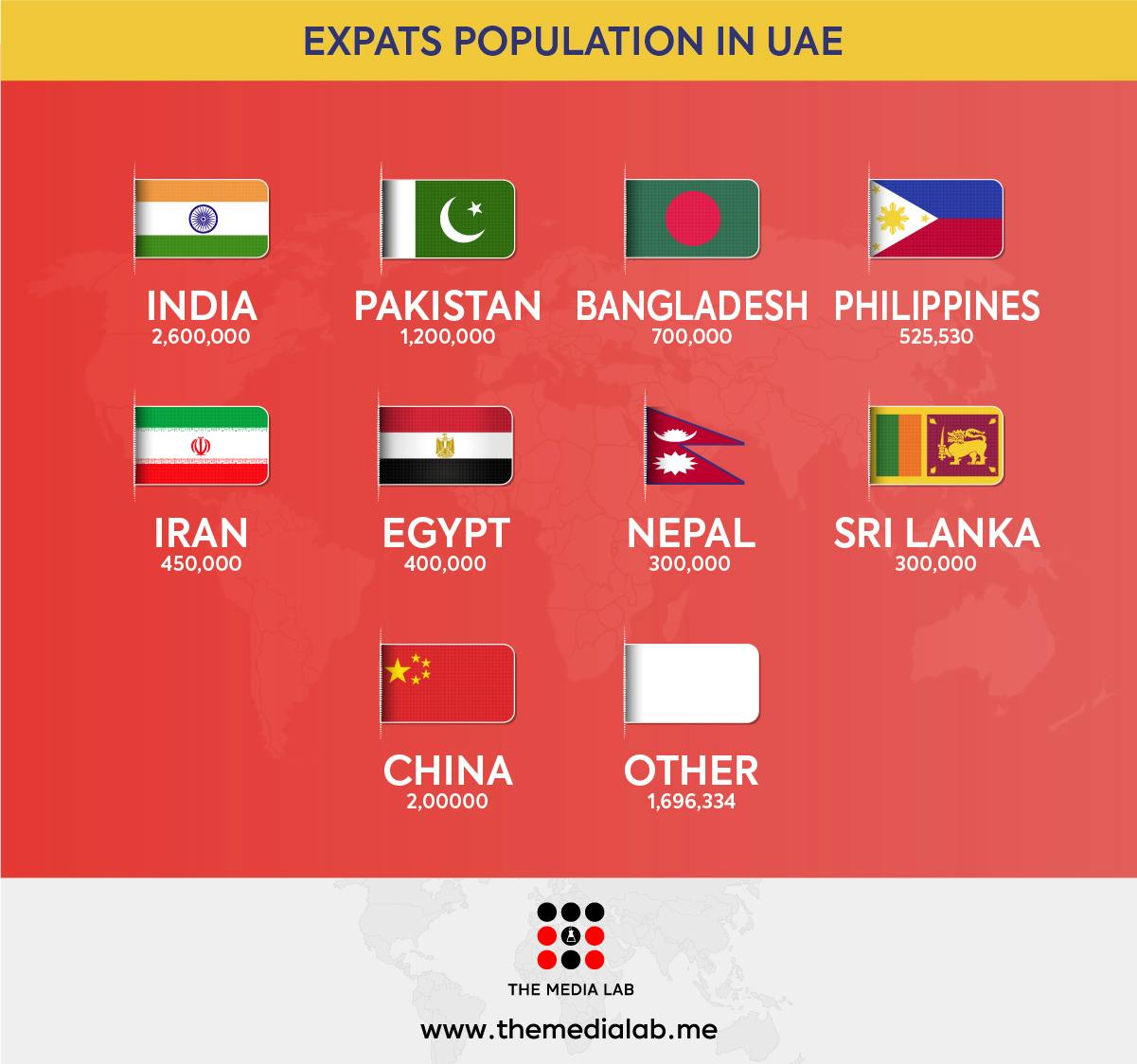 4.Expats Population in the UAE
Back in year 2016, the census stated that more than 50% of UAE population is consisted of South Asians having Indians as 2.6 million, Pakistani as1.2 million and UAE Citizens reported as 1 million. The same pattern is continuing over the years where UAE is considered as a hub for tourists and the center of attraction for all expatriates. Here we are stating the country wise population to see how many nationalities are bread earner and living in UAE.
Quick questions:
Which nationality is more in UAE?
Indian nationality
What percentage of Dubai is Expats?
87% Expats
What is local population of UAE?
13% UAE citizens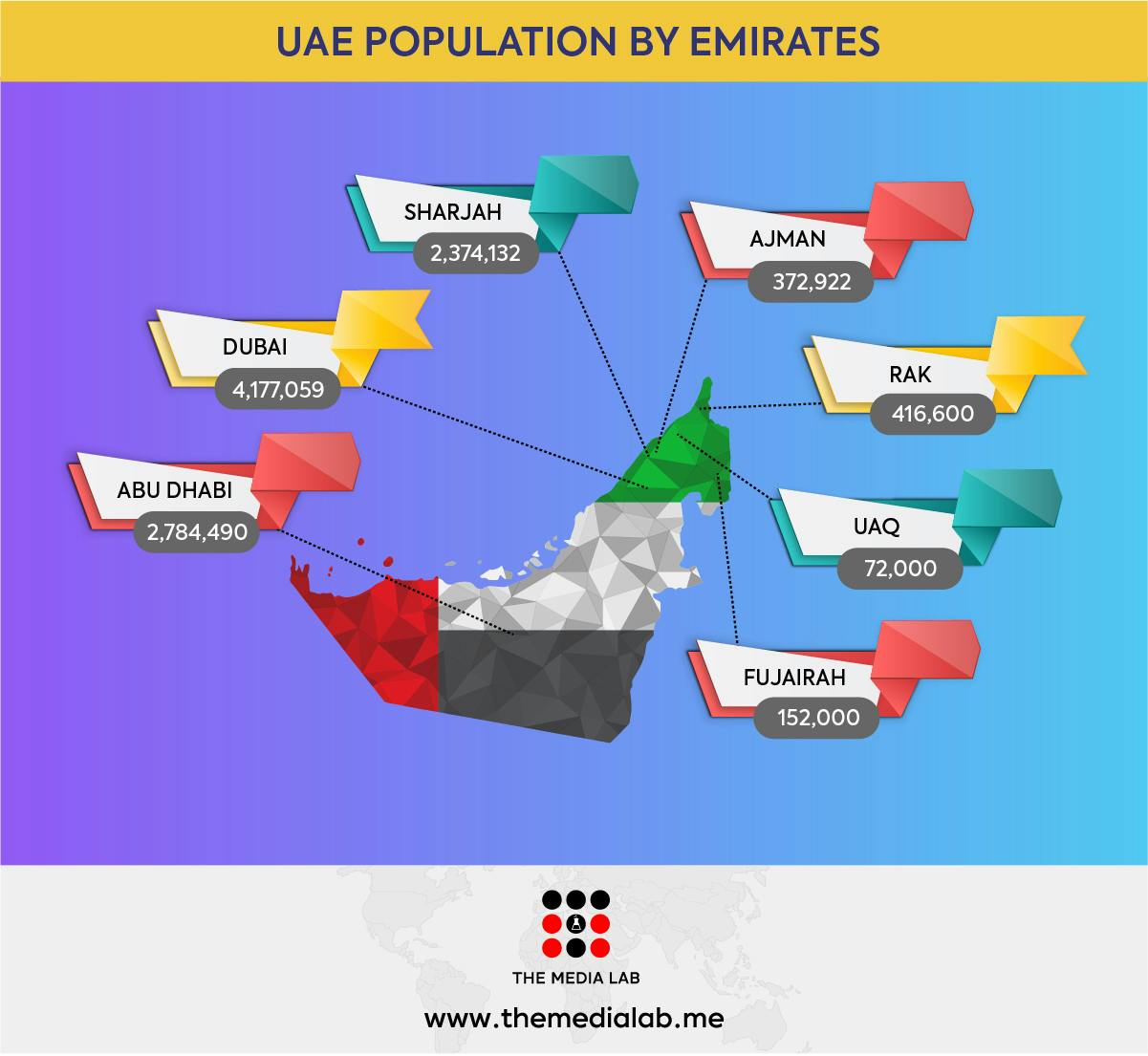 Which is the most populated Emirate in UAE?
The largest city in the United Arab Emirates is Dubai carrying the population of 4,177,059 people
The United Arab Emirates is known for a very diverse population. Established in 1971, UAE is made up of seven emirates naming Abu Dhabi, Dubai, Sharjah, Ajman, Fujairah, Ras al-Khaimah, and Umm al-Quwain. Since by the establishment, the country has observed great population growth.
Dubai is the largest city which has crossed the mark of 4 million population followed by the populous city of Abu Dhabi that is carrying over 2,784,490 residents as reported in 2018 by Wikipedia.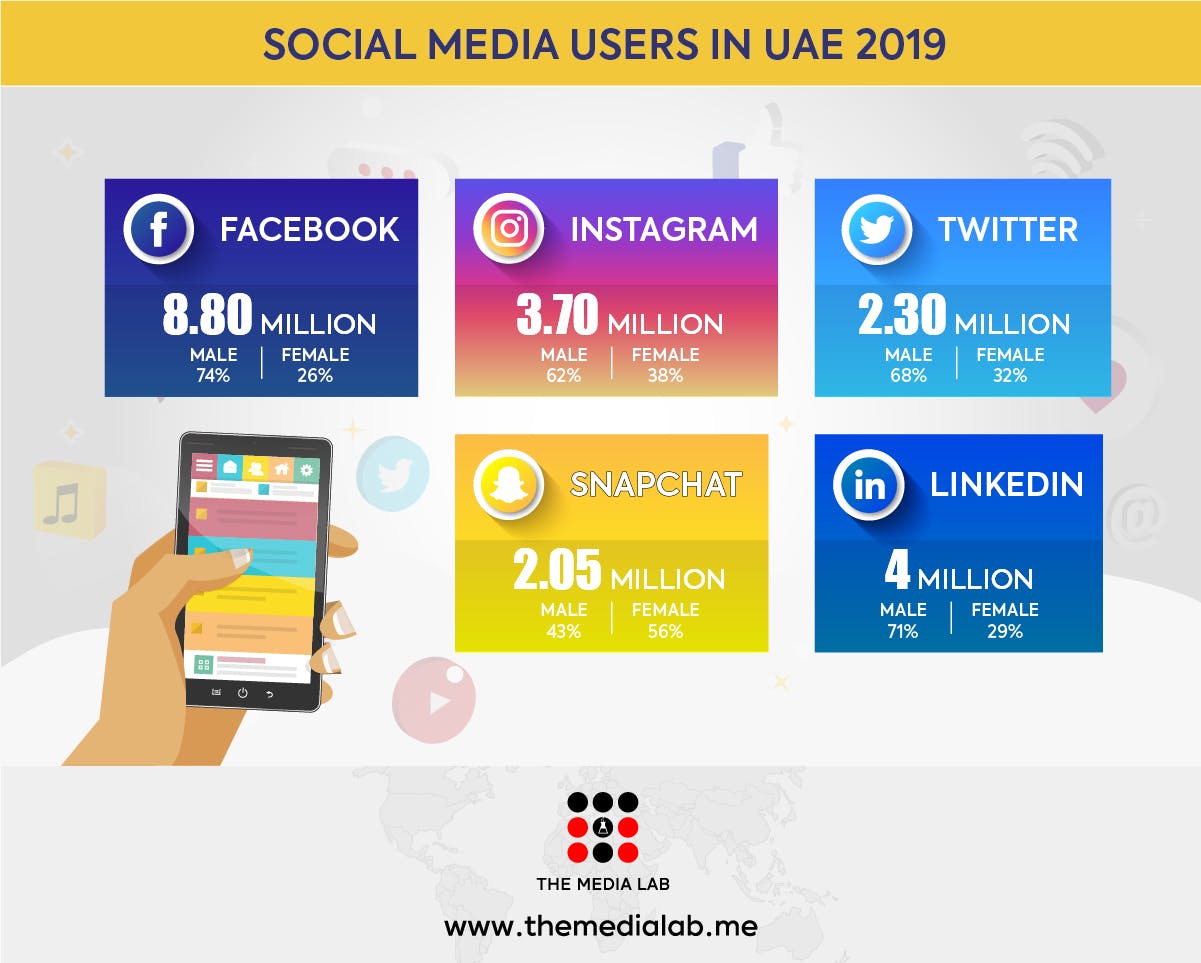 Social Media users in UAE in 2019
Increased technological updates every other day is swelling social media usage across the region. Throughout all social media platforms, male proportion is in a leading position except Snapchat which is carrying the majority of female users.
Concerning to the social media platforms, Facebook in UAE is an enormous success as holding 8.80 million people with 74% male and 26% female followed by the greater usage percentage of LinkedIn in UAE. Other than these social spaces, Instagram in UAE is having 3.70 million active users representing a significant percentage overall.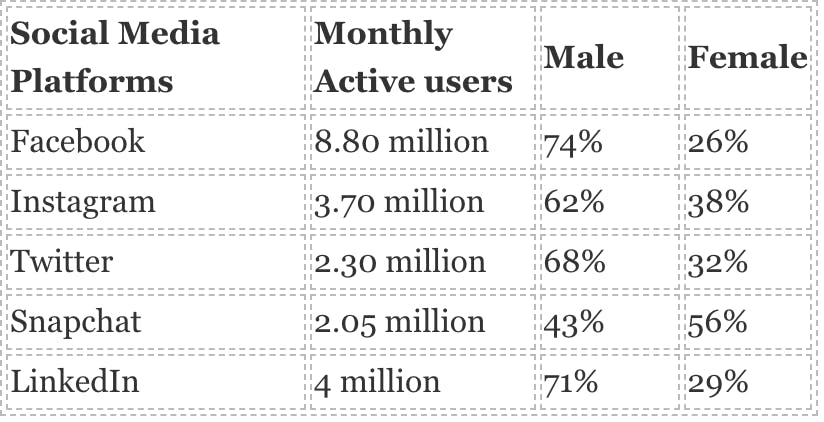 Over to you
We have compiled this data in order to get insights about the UAE Population statistics 2019. It will help to get a better idea for campaign planning, campaign targeting for other business planning. If you are interested to craft a digital strategy or looking for web design project or SEO project, then look no further and contact us today.
About the Data (Disclaimer)
The Media Lab has collected all the facts and figures from vast sources available at hands, intended to give our visitors an informative post. Though, The Media Lab as an organization cannot assure the appropriateness or accuracy behind the figures presented at every website and we will not be responsible for any lacking or error caused to any party in any manner through the given information