Like every year, We Are Social and Hootsuite have come up with UAE digital media statistics 2020 for different regions. These statistics are showing fervent development in the usage of social media, internet usage, and E-commerce.
With every passing day, digitalization is observing changes and having growth beyond boundaries. Social media platforms are playing a massive role in bringing this growth of digitalization. However, brands are making use of all social media platforms in full capacity and leveraging the benefits out of it.
Let us take a look at what we are having for you in this post:
Table of Contents
Digital around the world in 2020
The United Arab Emirates in Numbers
Internet penetration in UAE
Daily time spent with media in UAE
Device usage in UAE
Most visited websites in UAE
Top Google search queries in UAE
Daily Internet usage in UAE in 2020
Daily social media usage in UAE in 2020
Facebook users in UAE
Instagram users in UAE
Twitter users in UAE
Snapchat users in UAE
LinkedIn users in UAE
Use of voice search and voice command in UAE
Daily time spent using game consoles in UAE
Streaming TV content via internet in UAE
Ecommerce adoption in UAE in 2020
Mobile Ecommerce adoption in UAE in 202
Conclusion
1. Digital Around the World in 2020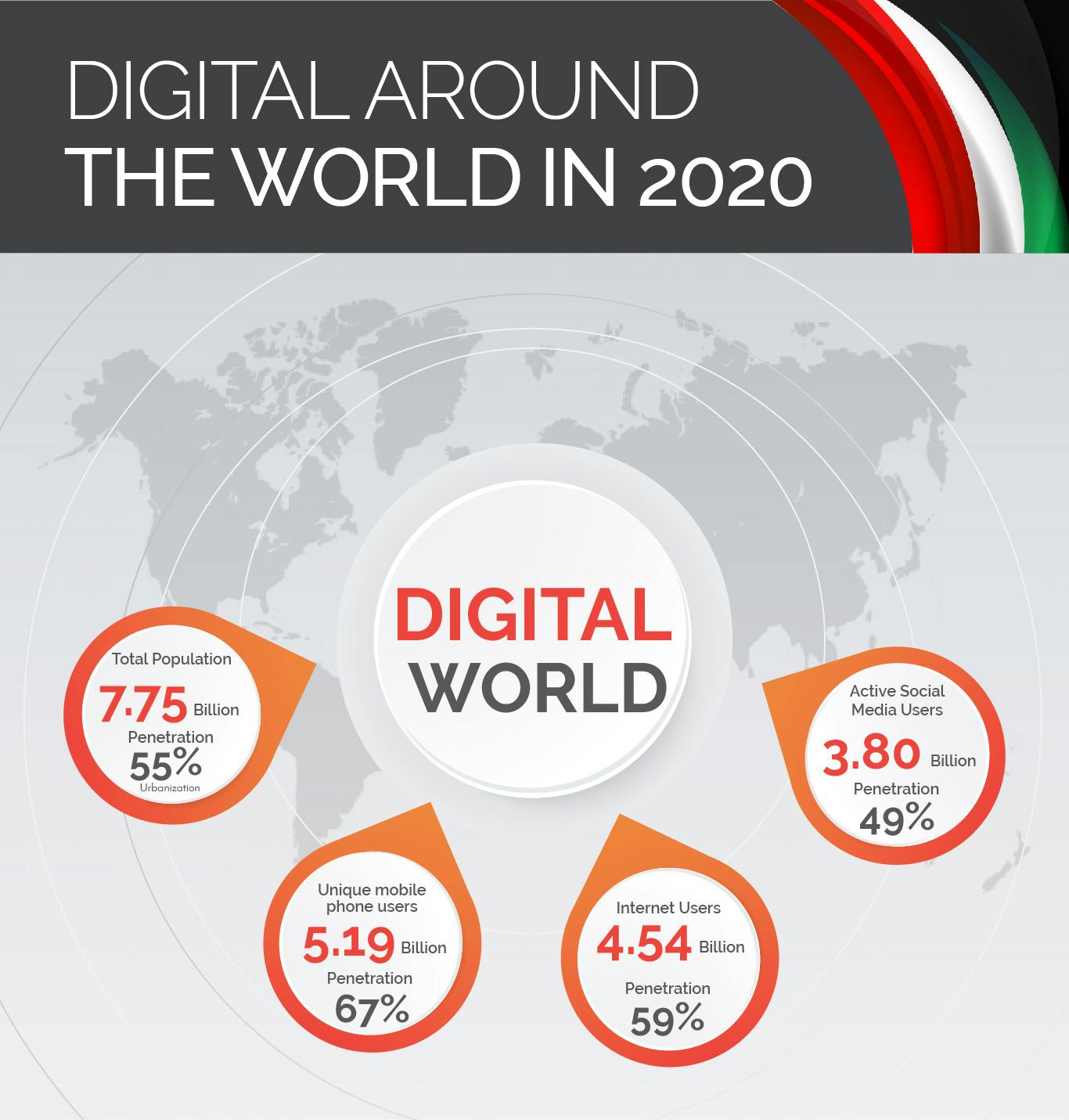 The latest reports by Hootsuite and We are social are showing the total population of 7.75 billion across the world having 5.19 billion unique mobile phone users globally. However, 4.54 billion people are avid internet users signifying 59% internet penetration across the globe. The crunching figures are indicating the greater usage of social media in the world as it is represented by 3.80 billion people with 49% penetration.
Have a look at the overview:
Total Population 7.75 billion
Unique mobile phone users 5.19 billion
Internet users 4.54 billion
Active social media users 3.80 billion
2. The United Arab Emirates in Numbers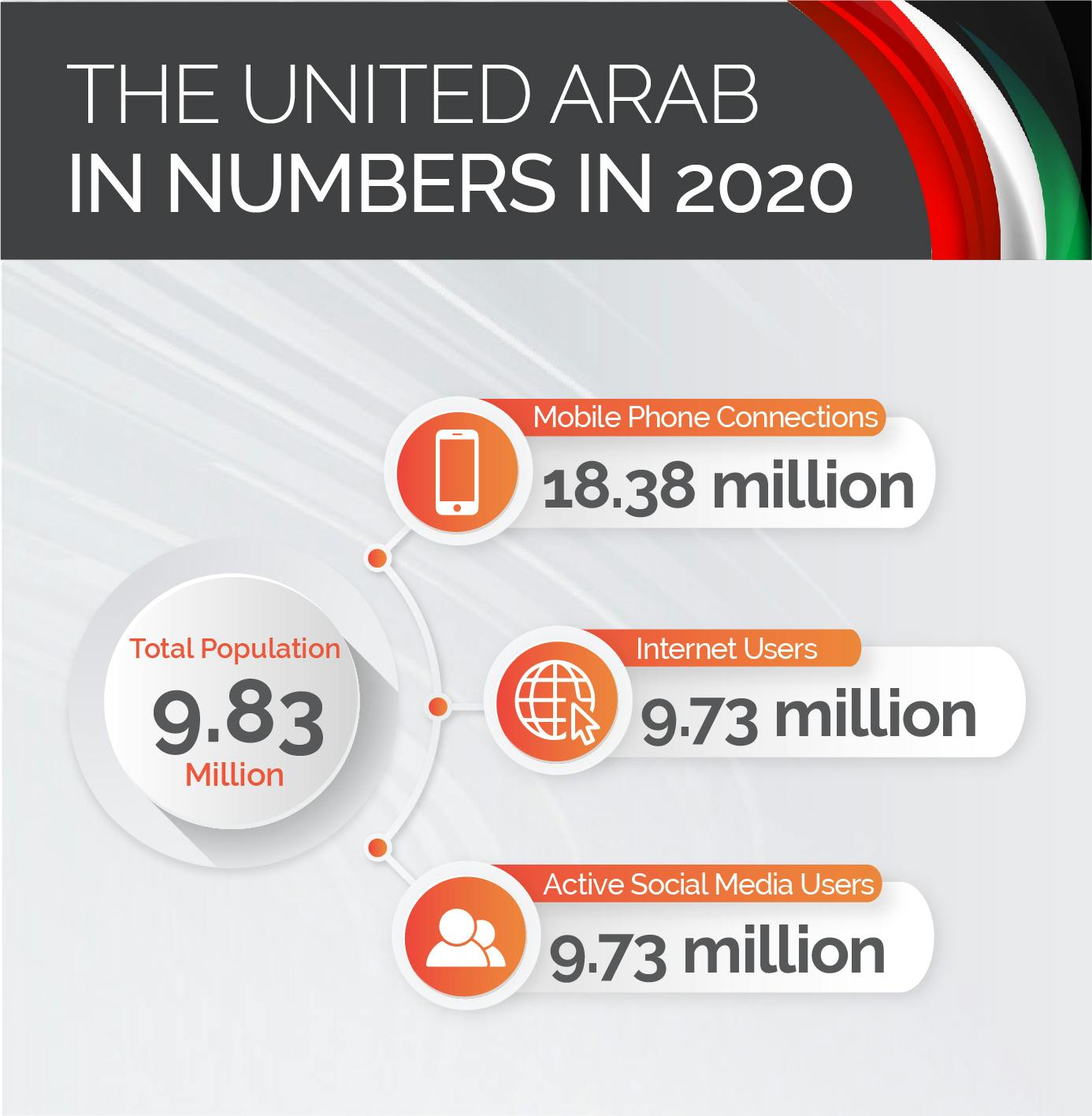 Total UAE Population 9.83 million
Mobile Phone Connections 18.38 million
Internet Users 9.73 million
Active Social Media Users 9.73 million
When it comes to see the digital aspect, total population of the UAE is 9.83 million, out of which 18.38 million mobile connections are shown with 187% population penetration as per the Hootsuite source. Internet users are observed with the count of 9.73 million people in the region whereas active social media users in UAE are recorded as 9.73 million people with 99% penetration.
3. Internet penetration in UAE
As per the sources, UAE is at the top position among all countries that carries highest internet penetration. The United Arab Emirates is leading the chart with 99% penetration whereas Denmark is at the second position with 98% penetration. Other countries South Korea, Sweden, Switzerland and United Kingdom are present at the third position having the 96% penetration at average.
4. Daily time spent with Media in UAE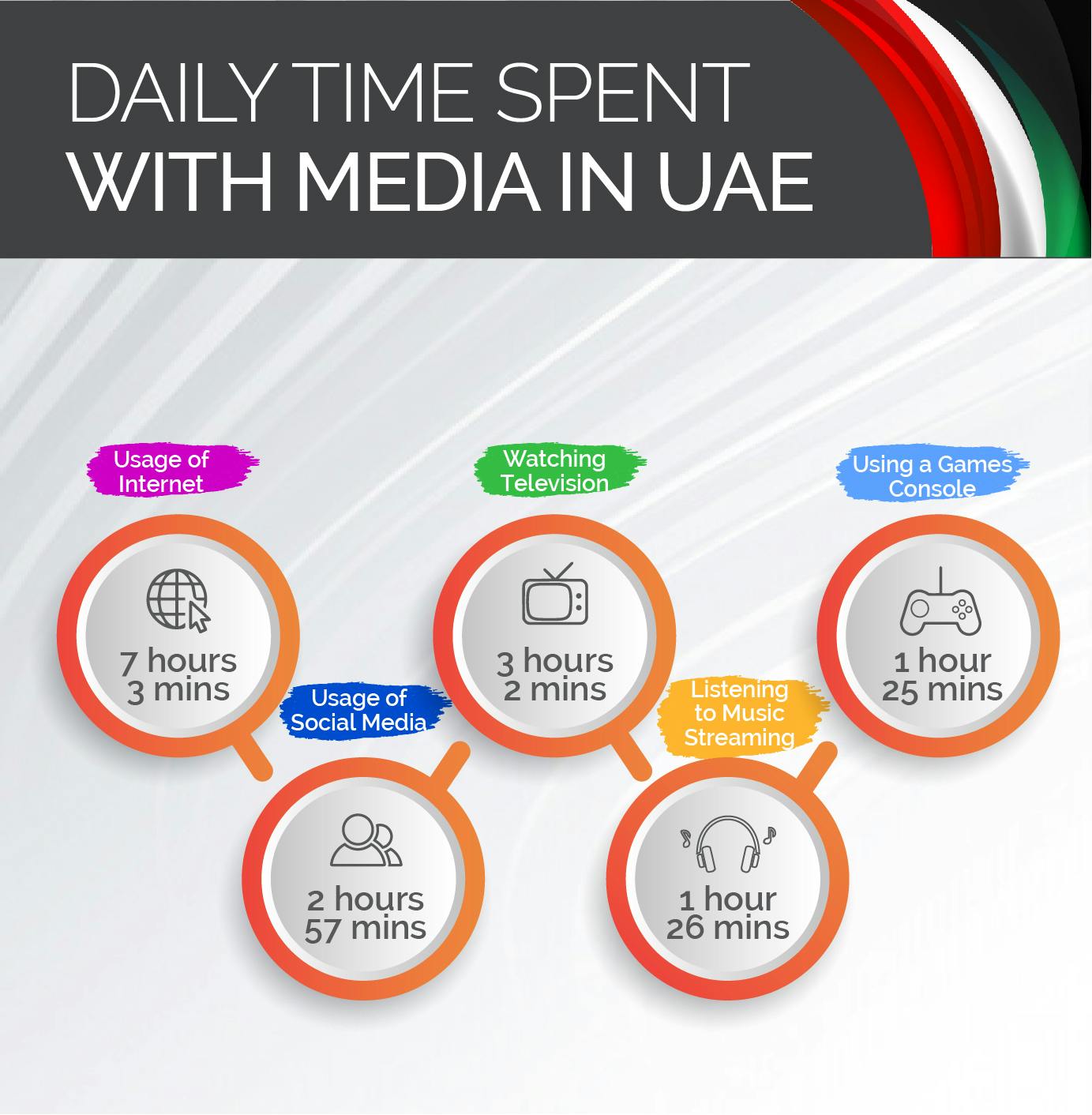 With the gigantic changes in the technological world, people are getting more inclined towards gadgets. When we see the time spent of people on media, there comes greater number of hours on scale. The United Arab Emirates is having internet users aged between 16-64 who spend their time on different devices. In the region, people are spending more than 7 hours a day at average on internet while 2 hours and 57 minutes are spent daily on social media. Other than this, people are spending their time to watch TV, listening to music streaming and using a game console as well.
Here are the stats shown at a glance of different mediums and its time spent:
Usage of Internet 7 hours 3 minutes
Usage of Social Media 2 hours 57 minutes
Watching Television 3 hours 2 minutes
Listening to music streaming 1 hour 26 mins
Using a games console 1 hour 25 mins
5. Device usage in UAE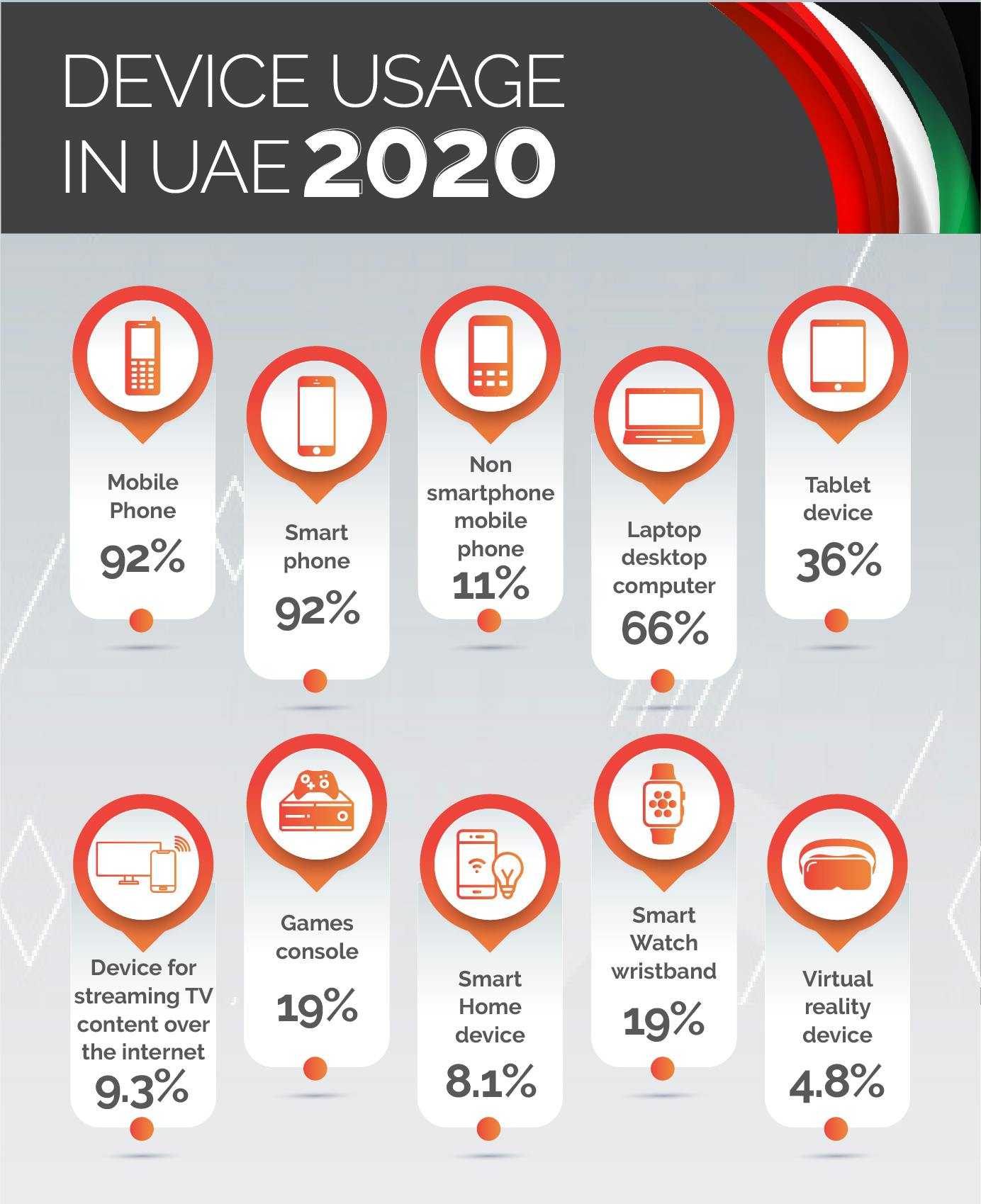 Massive percentage of UAE population is involved in usage of gadgets. As per the survey, 92% people are using any type of mobile phones and smartphones. Moreover, 11% people are still using non-smartphones in UAE while 66% people are frequently using laptop or desktop computers.
Here is a detailed representation of each device usage in UAE.
Mobile Phone 92%
Smartphone 92%
Non-smartphone mobile phone 11%
Laptop/desktop computer 66%
Tablet device 36%
Device for streaming TV content over the internet 9.3%
Games console 19%
Smart Home device 8.1%
Smart Watch wristband 19%
Virtual reality device 4.8%
6. Most visited websites in UAE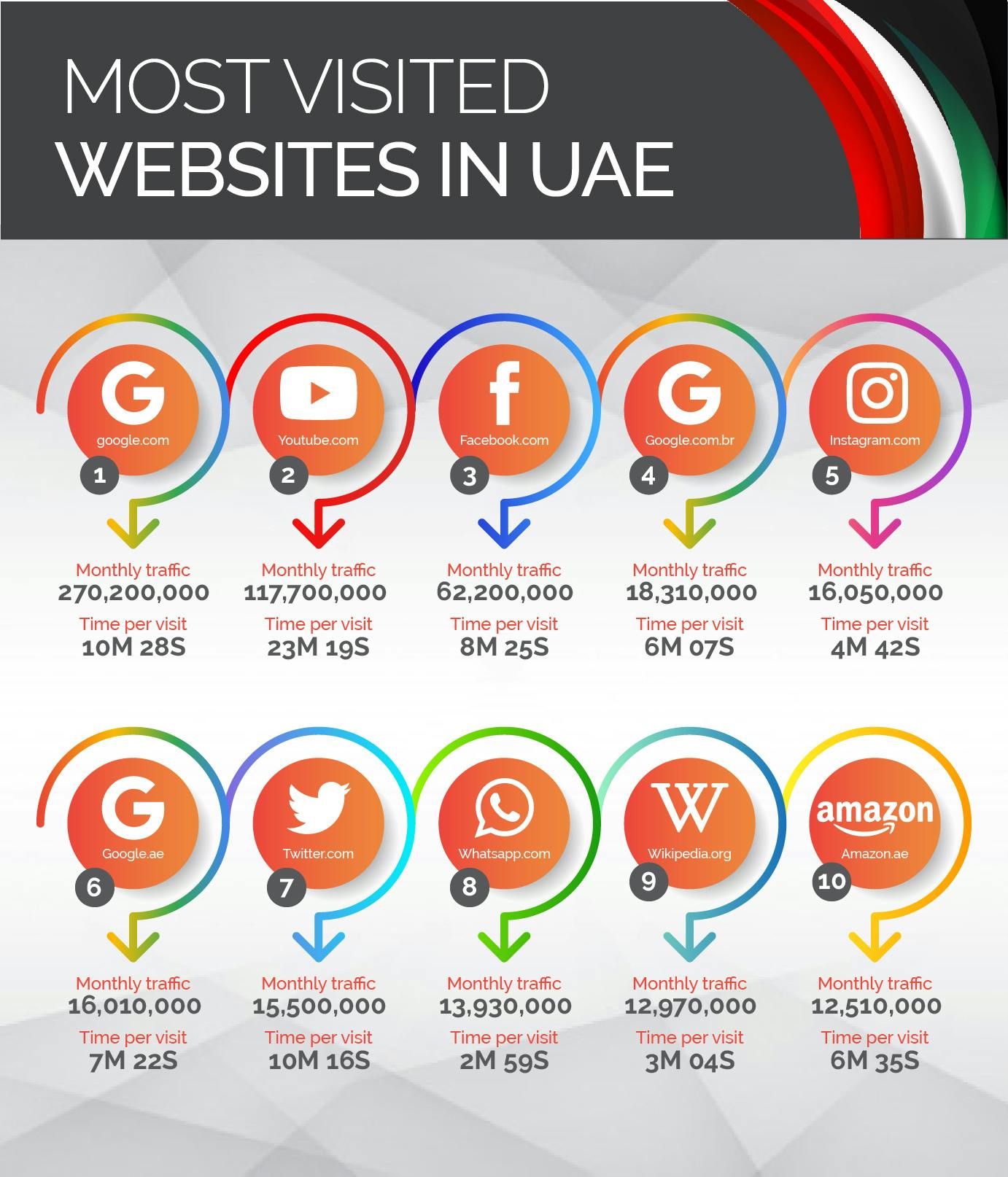 Having the highest internet penetration, UAE is showing a prominent usage of different websites. Google.com, YouTube.com and Facebook.com are the most used websites in UAE with highest time spent by people. Other websites that are in the list of most visited websites are google.com.br, Instagram.com, Google.ae and others. These websites are having enormous monthly traffic respectively.
Most Visited websites
Google.com
Monthly traffic 270,200,000
Time per visit 10M 28S
Youtube.com
Monthly traffic 117,700,000
Time per visit 23M 19S
Facebook.com
Monthly traffic 62,200,000
Time per visit 8M 25S
Google.com.br
Monthly traffic 18,310,000
Time per visit 6M 07S
Instagram.com
Monthly traffic 16,050,000
Time per visit 4M 42S
Google.ae
Monthly traffic 16,010,000
Time per visit 7M 22S
Twitter.com
Monthly traffic 15,500,000
Time per visit 10M 16S
Whatsapp.com
Monthly traffic 13,930,000
Time per visit 2M 59S
Wikipedia.org
Monthly traffic 12,970,000
Time per visit 3M 04S
Amazon.ae
Monthly traffic 12,510,000
Time per visit 6M 35S
However, as per Alexa source, top 5 most visited websites in UAE are Google.com, YouTube.com, Google.ae, Faceboook.com and Manoramaonline.com respectively.
7. Top Google Search Queries in UAE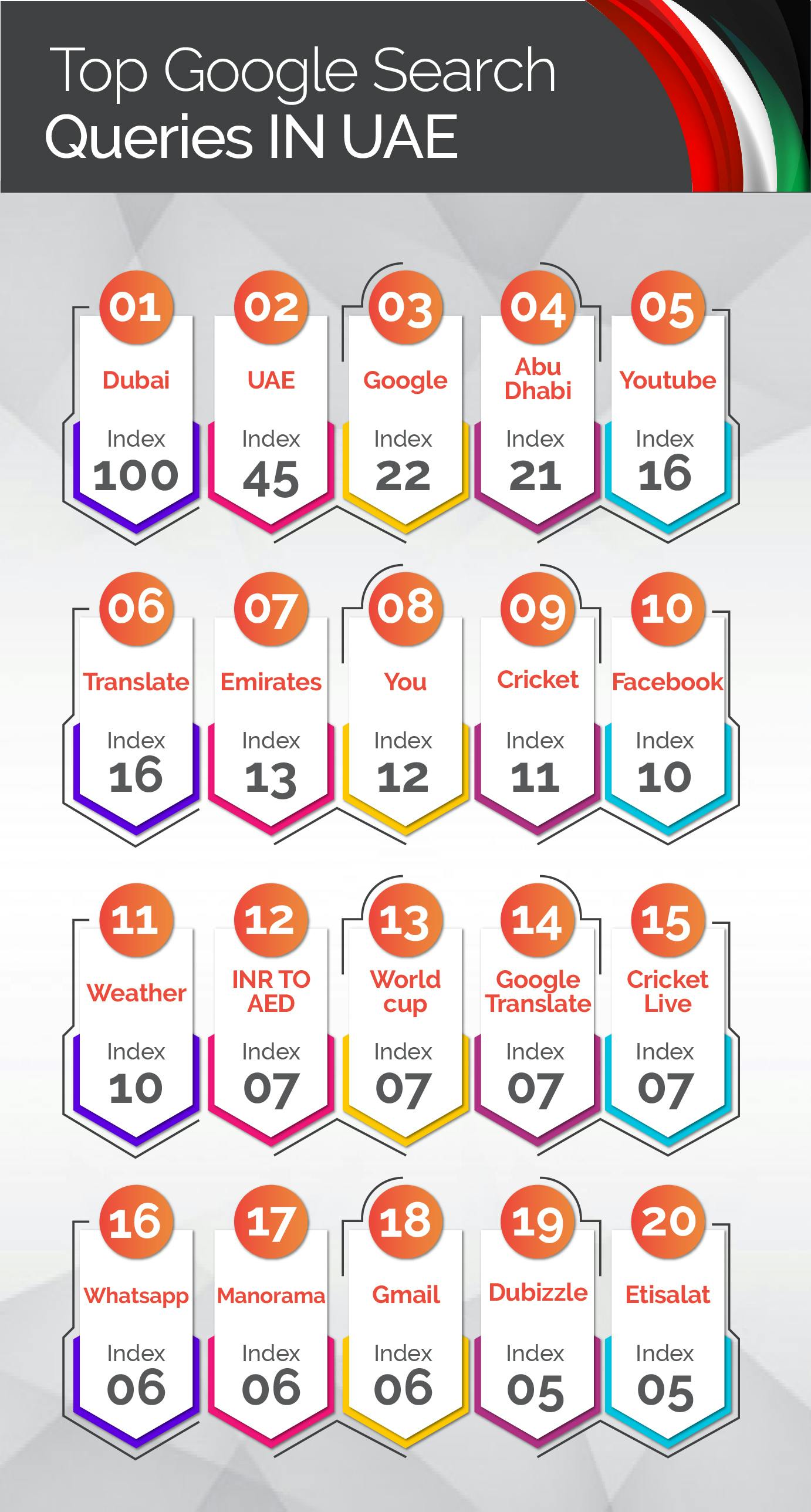 The most common terms that people searched throughout the year were Dubai, UAE, Google, Abu Dhabi and others. Let us take a look at all the most searched terms in UAE
8. Daily Internet Usage in UAE In 2020
It is interesting to see that the world's internet users will spend approx 1.25 billion years online in 2020 and this is more than one-third of the time spent using social media. Moreover, the time spent on the internet varies from country to country as people in the Philippines are spending an average of 9 hours and 45 minutes per day online while people in Japan spend just 4 hours and 22 minutes per day.
When it comes to UAE digital media statistics 2020, the country is showing accelerated figures of internet usage. It comes under twenty countries that have higher time spent on the internet each day. The Philippines and South Africa are carrying the highest time spent on the internet with over 9 hours. However, the United Arab Emirates is having 7 hours 3 minutes of time spent each day using the internet. It is an average amount of time users aged between 16 to 64 are spending on the internet each day. It is apparent that this time span is increasing day by day regardless of countries.
9. Daily Social Media Usage in UAE In 2020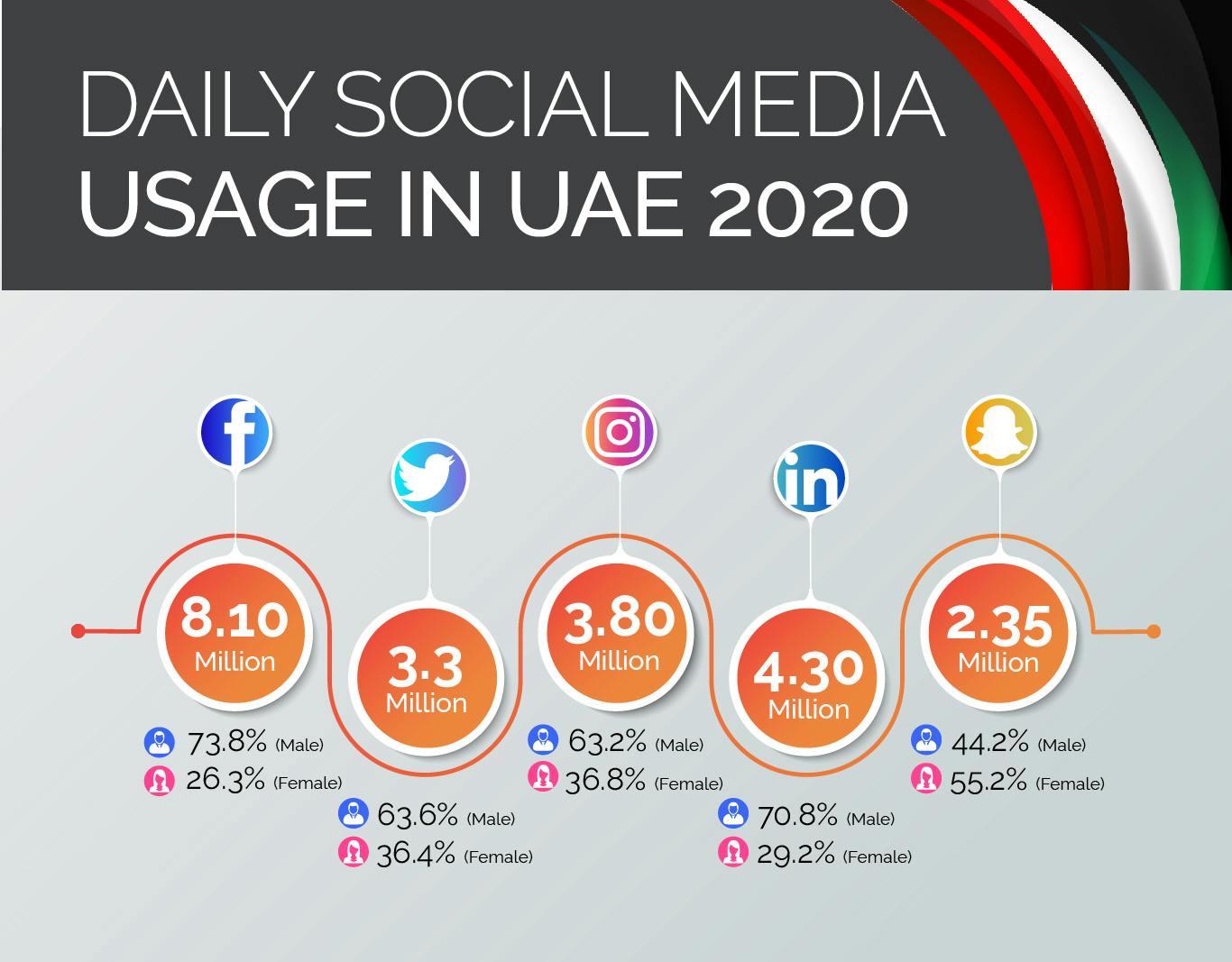 Likewise the gigantic internet penetration, social media is making waves in almost every country. The United Arab Emirates in one of the top countries with higher time spent on social media. Platforms like Facebook, Twitter, Instagram, Snapchat and LinkedIn are holding colossal percentage of users. Facebook is in the leading position with 73.8% male and 26.3% female whereas LinkedIn is securing the second spot with 4.30 million people. Other platforms are following the race with prominent user base.
However, Philippines, Colombia, and Brazil are at the top positions with higher social media usage stats. Their users are spending over 3 hours each day on social media. Moreover, the United Arab Emirates is approximately spending 3 hours each day on any device.
10. Facebook users in UAE 2020
Facebook is one of the prominent platforms that is used by vast number of people in UAE. Facebook users in UAE is represented by 8.10 million people with the massive 73.8% percentage of male users and 26.3% of female. UAE Social media statistics 2020 is showing that 99.1% people use this platform through mobiles while 10.2% people prefer to use this platform from both computers and phones.
11. Instagram Users in UAE
As per the latest reports, reachable Instagram users in UAE through adverts are shown as 3.80 million people whereas in last year, this figure was reported as 3.70 million people. So this is quite an increase in the usage of this platform in UAE.
The survey graph is mentioning the visible percentage for male users with 63.2% alongside the female percentage of 36.8% leading to quarter wise growth by more than 12%. If we compare the last year percentage of male and female users of Instagram in UAE then male percentage has seen a growth in terms of percentage where female users are declined by almost 2%.
12. Twitter Users in UAE
The social networking platform Twitter is also prominent in the region and has shown increased audience than last year. There are over 3 million Twitter users in UAE reported in the survey. The Twitter users in UAE include 63.6% of male and 36.4% female ratio representing the increasing interest of users in the platform.
13. Snapchat users in UAE
Snapchat is an intriguing platform that is liked by great number of people across the world. This platform is encompassed with 2.35 million users in UAE where female proportion is colossal as compared to male presence. The UAE social media statistics 2020 is mentioning the 55.2 % of female Snapchat users in UAE while the male users are shown with 44.2% in the charts.
14. LinkedIn Users in UAE
The professional network is holding 4.30 million users and it is an increased percentage as compared to last year. On the platform, there is an avid presence of male LinkedIn users in UAE, represented by 70.8% in the survey while female audience is denoted with 29.2% overall.
15. Use of Voice Search and Voice Command in UAE
In the graph of usage of voice search and voice command, China, Indonesia and India are leading towards higher usage stats with 55%, 54%, and 54% respectively. The United Arab Emirates is also having an evident percentage for use of voice search and voice commands with 41% overall. This percentage is indicating the country as technology savvy as their work is getting dependent on the latest technological aspects. It is intriguing to see that one in three global internet users now prefer to use voice interfaces on their mobile phones each month as shown in the report.
16. Daily time spent using games consoles in UAE
When it comes to the usage of gaming consoles, UAE appears at the fourth position with an average time spent of 1 hour 25 minutes. The first three spots holding the higher time spent with game consoles are Thailand, Philippines, and Saudi Arabia. They are having time spent of 1 hour 43 minutes, 1 hour 33 minutes and 1 hour 33 minutes respectively.
These stats are clearly showing that people are interested in spending money on games. However, mobile games are also emerging as a big business. The App Annie is reporting that mobile users across the world spent more than US$65 billion on game apps and game-related in-app purchases in the year 2019. This accounts for more than 70 percent of total consumer spend on mobile apps in the past 12 months.
17. Streaming TV content via the Internet In UAE
Undoubtedly, people prefer to stream content through the internet and the percentage of this streaming is going bigger with each passing day. Like the other countries, United Arab Emirates is appearing with good figures of internet streaming users. It is having 64% of internet users who stream TV content through the internet on a regular basis. Furthermore, Mexico, Brazil, and Colombia are in the top positions with a higher percentage of internet streaming users.
18. E-commerce Adoption in UAE in 2020
Throughout the world, consumers are inclining towards E-commerce and want to purchase through mobile devices as compared to laptops. However, reports reveal that people are using both devices for their online shopping.
Indonesia, Thailand, and Poland are reserving the top spots in greater Ecommerce adoption with 88%, 82%, and 82%percentages respectively. As per the reports, UAE is having 66% Ecommerce adoption rate that is quite good in the charts. This percentage is likely to increase in the coming years specifically due to upcoming events and Expo 2020.
19. Mobile Ecommerce Adoption in UAE in 2020
Following the growth of eCommerce, countries are greatly encouraging Mobile Ecommerce adoption in 2020. Data from Statista shows that e-commerce across the world has grown significantly during 2019. In the chart of mobile e-commerce adoption, Indonesia, Thailand, and Philippines are in the leading position with 80%, 69%, 66% respectively. United Arab Emirates at the 12th position in Mobile E-commerce adoption. Other countries like Singapore, Hong Kong, Ireland, Mexico, and others are included in the charts with significant percentages.
20. Conclusion
With the report of UAE digital media statistics 2020, it is crystal clear that the world is evolving through digitalization and the success of social media and E-commerce is creating brands and landing them in the hearts of people. Either it is professional or individual aspects, the digital arena is making it possible to convey your messages and brands to a wider audience. We will come with another post that will go deeper into more nuanced findings in this year's report.
Moreover, if you are eager to know how to translate these findings from data into more efficient and effective plans and strategies, then get in touch with the Media Lab.
At the Media Lab, we have all diversified and modernized technological tools with proficient knowledge of the industry and in-depth insights to increase our clientele business revenues and reputation.
Talk to us for exploring the digital marketing strategies including the awesome web designs, Influencer Marketing, Social media management and effective SEO plans. Drop us an email at hello@themedialab.me
Data Source:
We Are Social