This digital era is driving massive changes in the technological ecosystem and the big role in this regard is played by smartphones. Mobile phones have given an ultimate boost in the internet and social media usage across the world.
Table of contents
Digital in the United Arab Emirates
Population and Economic Indicators in the UAE
Device usage in UAE
Time spent with Media
Internet use in UAE
Digital in the United Arab Emirates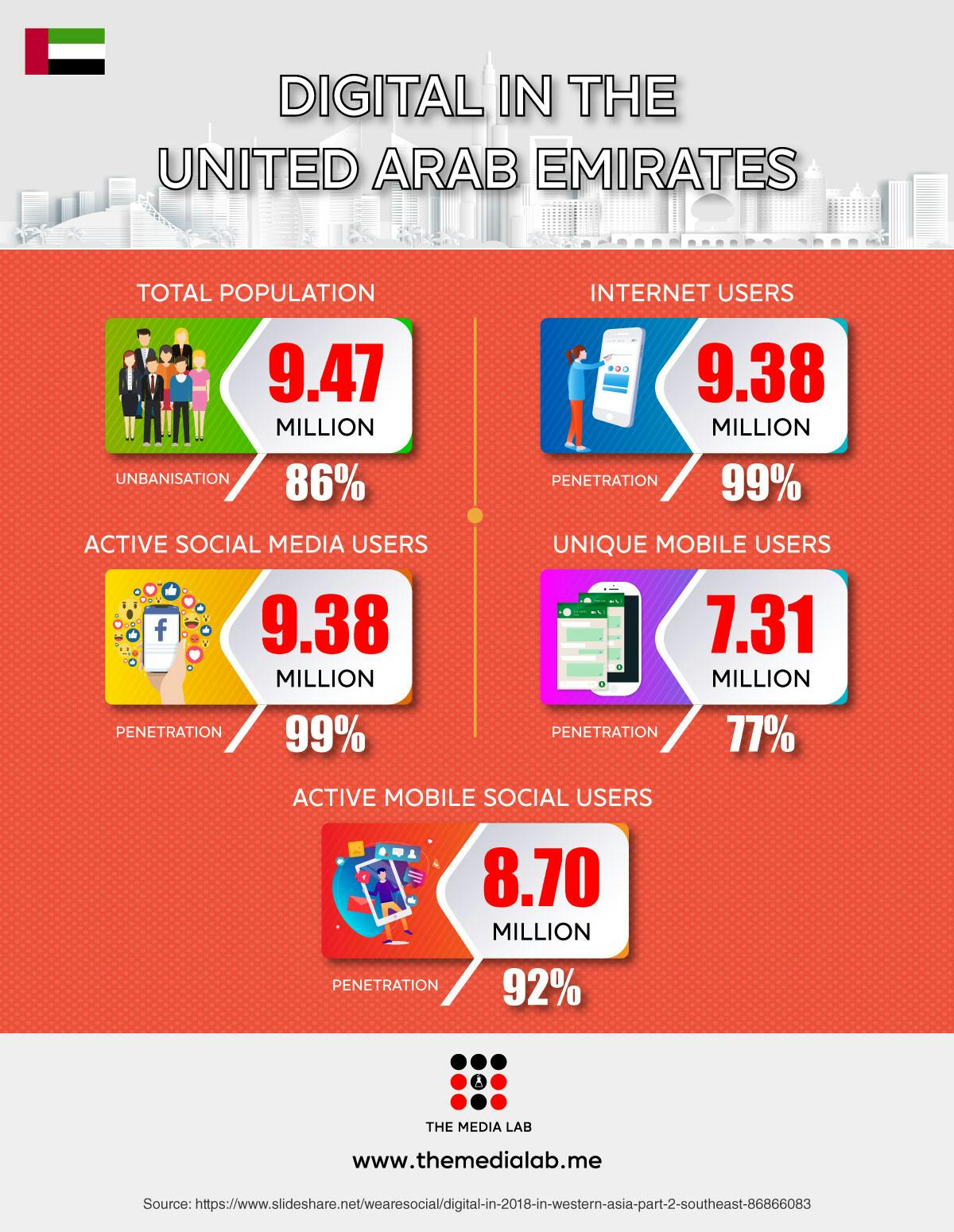 When we consider the region of United Arab Emirates to check the penetration of internet, colossal results are observed throughout the scale. The total population of the region is reached to 9.47 million comprising of 86% penetration while internet usage is attributed by 99% of the population and this record has surged past the previous year's record.
The increased dominance of super speedy connectivity has given a real enhancement in social media usage comprising of 9.38 million population. Besides the surfing at desktop or tablets, people prefer to be active at social media platforms regardless of time. It merits mentioning here that the massive population of unique mobile users is accrediting 7.31 million people standing at 77% penetration across UAE. This swelled usage is seen due to the availability of advanced internet facilities like 4G at lower price plans.
Population and Economic Indicators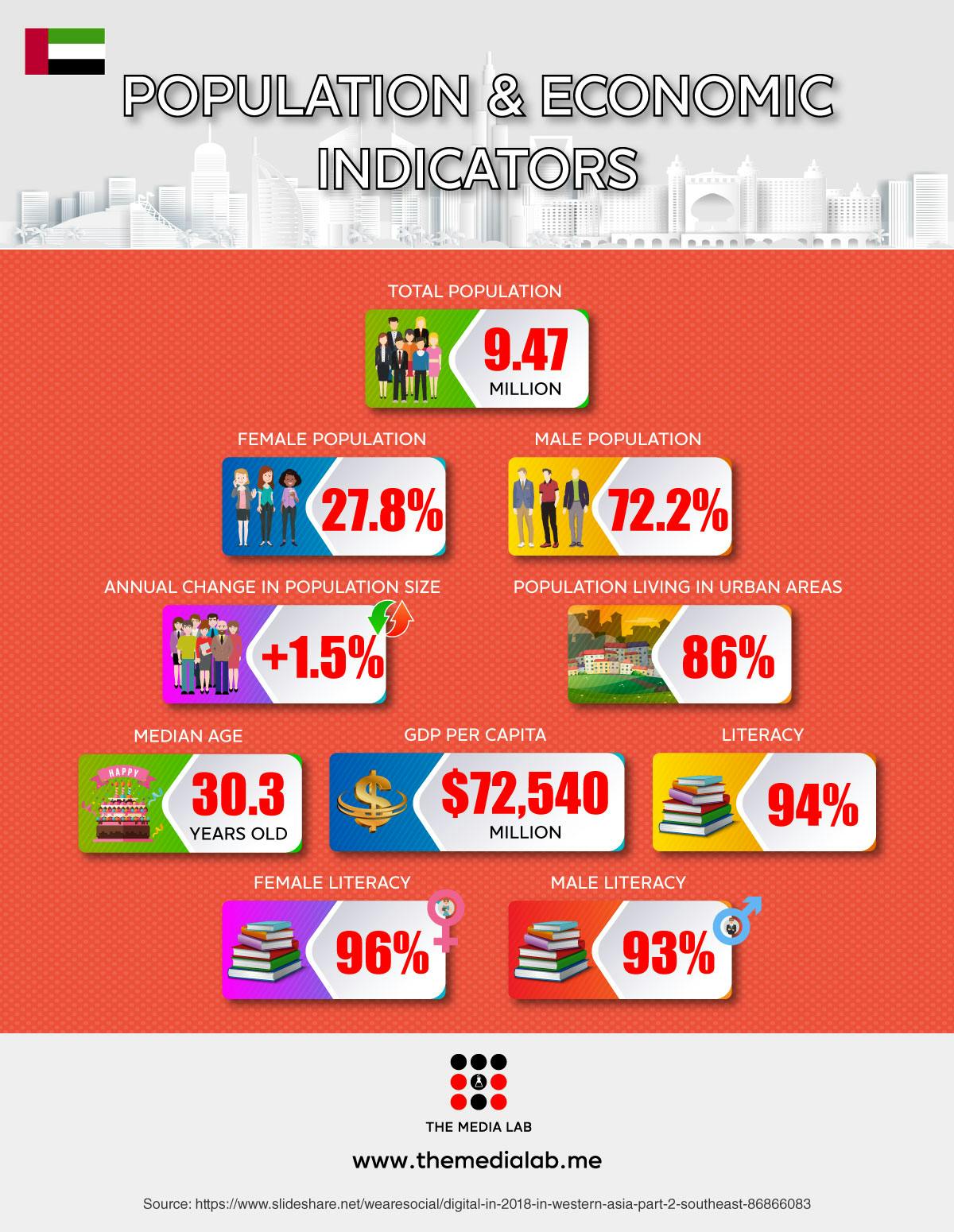 UAE is the region known for business hub and for possessing rich culture carrying a diverse and fast-growing economy leading to incredible growth through the decades. According to the statics of 2018, the population of UAE is about 9.47 million consisted of 72.2% male and 27.8% females. The ratio of males to female is observed as skewed due to the higher percentage of the male in the country.
The recent stats showed an average annual change of 1.5% while carrying the greater number of population living in urban areas enjoying the distinctive luxuries of the country. When it comes to literacy rate, an eyeball popping 96% and 93% females and males are literate out of the population of 9.47 million people. While a whopping GDP per capita of 72,540$ million here is signifying the region as the substantial business abode.
Device Usage in UAE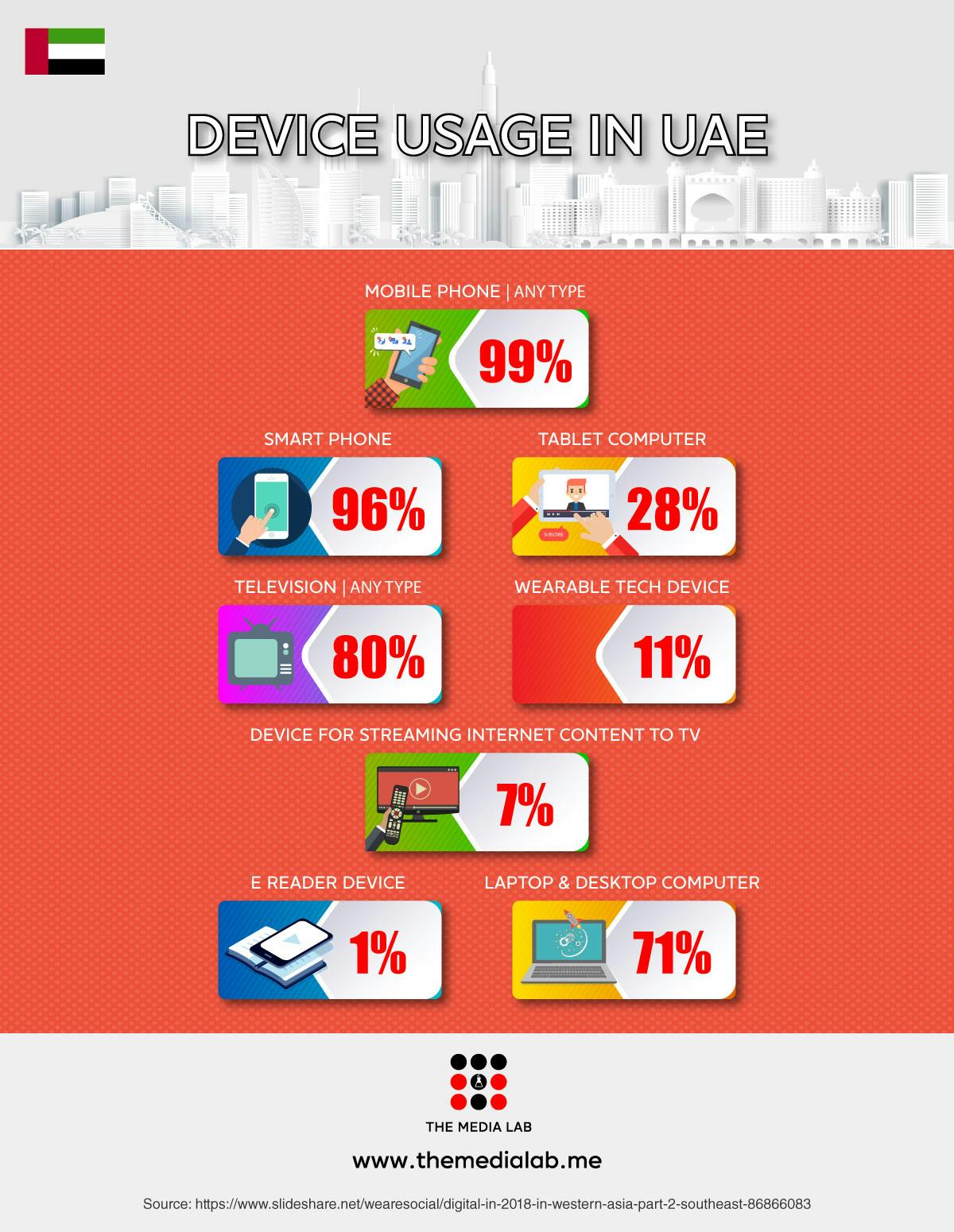 Almost 99% of the population in the region carries mobile phones.
Specifically followed by the usage of smartphones by 96%. As per the latest statistics of 2018, tablets are also in the game possessing the usage of 28% while the television usage is booming the larger percentage of 80% as people found it good for sparing leisure time with family.
Devices and its Usage Percentage
Mobile phone 99%
Smartphone 96%
Tablet Computer 28%
Television 80%
Wearable tech device 11%
Device for streaming internet 7%
E-reader device 1%
Laptop and desktop computer 71%
Time Spent with Media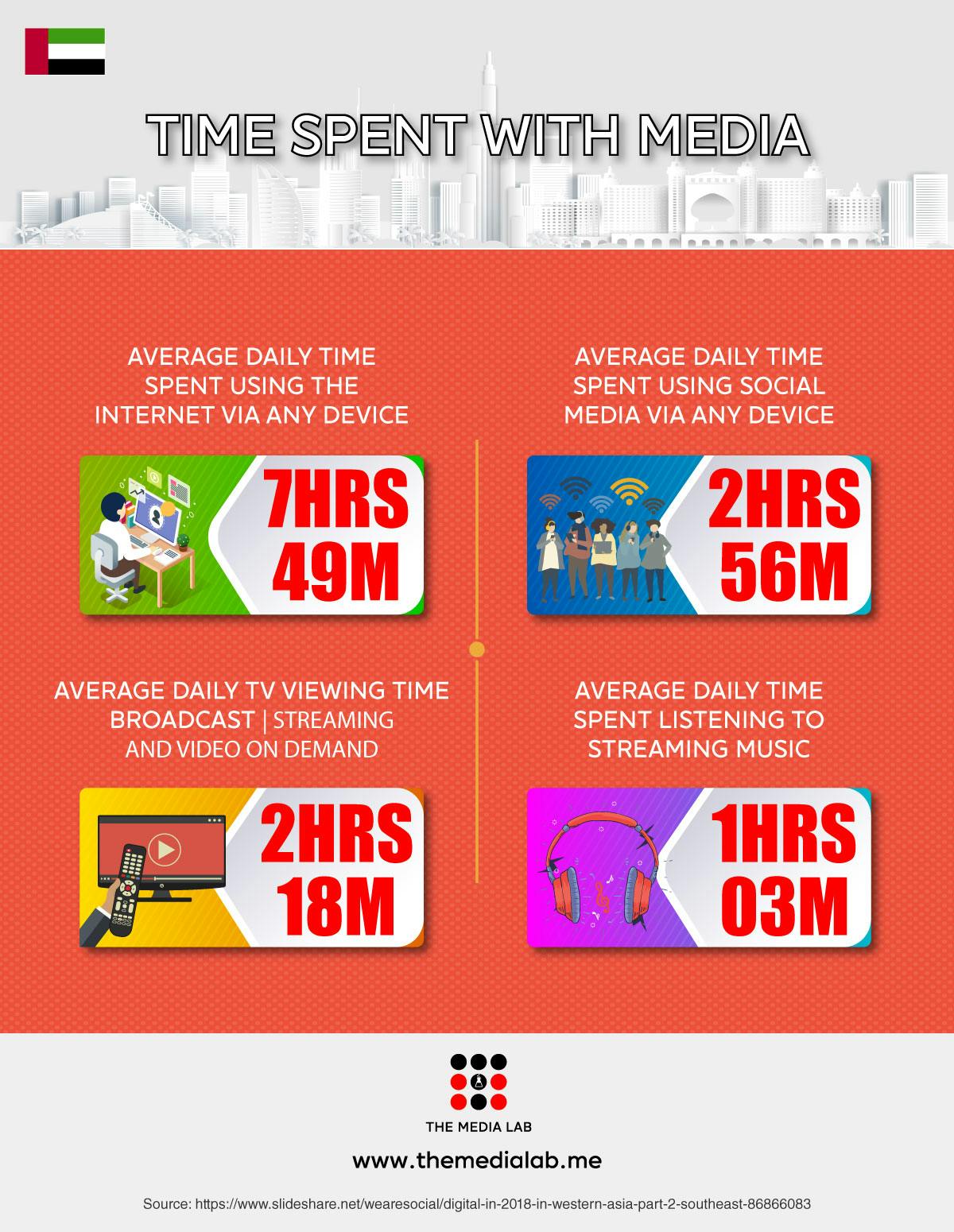 The latest UAE digital media statistics 2018 revealed that average time spent using internet through any device is above 7 hours daily; whereas, a significant portion of time is attributed by social media usage at an average of more than 2 hours daily. Along with internet usage, people are also indulging in TV and streaming media spending an average time of more than 2 hours on it.
Enormous numbers of statistics are shown when it comes to internet usage. Across the region, 9.38 million people are active internet users comprising of 99% population though 9.13 million people are involved in internet surfing via mobile encompassing 96% of the population.
Throughout the United Arab Emirates, digital media is evolving all the aspects either in personal or industrial ways. Social media is playing a gigantic role in raising voices and transforming the brands' appearances harvesting excessive benefits to the economy.
If you are planning to boost your online presence through eye-catching website design or want to reach your target audience through social media, our team of digital experts will help you to craft a right strategy for you. Let's get in touch with us to discuss your digital business goal.
Data Source: We are Social