SMS marketing is taking businesses to the next level that are exploring it well. Despite the significance and success rate of SMS marketing, several businesses are neglecting the power of SMS marketing. This is how they are following the monotonous growth rate. Under this blog, we are going to share some brilliant SMS marketing tips that unfold a lot of benefits to your businesses.
It is reported that 54% of consumers look for marketing messages and only 11% of businesses practice this SMS marketing. Throughout the industry, different companies are greatly missing out an opportunity that can set them apart from their competitors.
If you are running a business and want to take it to new heights then add these effective SMS marketing tips to your strategies for 2020.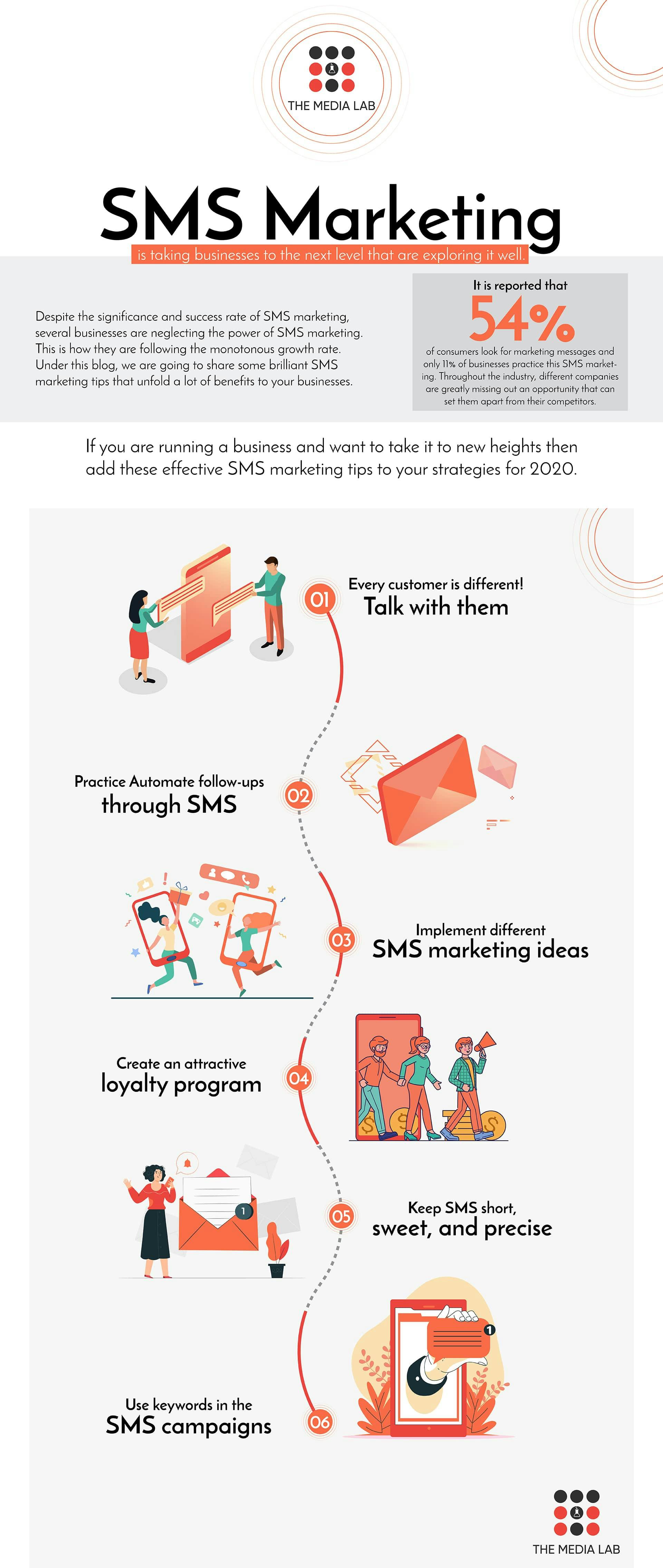 1. Every customer is different! Talk with them
Just like every other person in the family is a different one, so is your audience. There are different channels for marketing but when you are looking to interact with customers individually then treat them with some personalized message. This can include different things from their names to involve some of their routine tasks in SMS.
SMS is a sort of intimate channel and it is all the way better to maintain the closeness with your customers by putting their first name or any personalized aspect including offers that are appropriate and based on location or past purchases. This helps to build and maintain a good relationship with your customers.
It is observed that customers are likely to respond to a text rather than an email. So, if you are using SMS marketing, it is more likely that you will get an increase in growth by 6 times.
2. Practice Automate follow-ups through SMS

Usually, the first message is ignored by receivers and it is observed that 80% of sales happen after doing the 4th follow-up. So, explore SMS marketing tips with persistence while doing marketing and sales. In this follow up message, you can remind them about your services, benefits and give them a link where they can contact and set an appointment with the company at their convenience.
3. Implement different SMS marketing ideas
Don't just keep sending the same messages to every customer. In spite of, design your SMS marketing strategy revolving around welcome offers, birthday discounts, special time-sensitive offers, or other schemes. For having some rapid and great results, add a touch of urgency in your SMS by giving them some code or telling them that there are only two days left for the end of the promotion. Such texts are good persuaders and encourage readers to avail the services.
4. Create an attractive loyalty program
People love to get some discounts and additional benefits for their purchases. In order to go ahead with this prospect, design the SMS based loyalty program that will make customers attach with the brand. Open the opportunities where they can avail loyalty programs without any physical cards. This is a fast era of smartphones so your business should take advantage of it well by bringing customers to beneficial loyalty programs.
5. Keep SMS short, sweet, and precise
Everyone is going fast in their daily routines and no one wants to read long SMS or emails. So keep your SMS campaigns few and far between and put a limit on the characters so that it can grab the customers' attention well and quickly.
If you want to communicate an offer with your customer, lead with it and include all the important information about the products. Also if your business is having a link then include it in the SMS so that customers can get whole detailed information.
6. Use keywords in the SMS campaigns
Keywords play a significant role in campaigns. They define the specific interest areas of customers and lead to the powerful functioning of SMS campaigns. Create SMS campaigns that actively trigger a unique offer and persuasive information based on the past response of the target audience. These SMS campaigns are an efficient and powerful way to create a bond with customers while urging them to know more about the products and offers.
Wrap up
SMS marketing campaigns are leveraging greater benefits to the businesses as they carry higher open rates than email marketing or other campaigns. Companies exploring SMS campaigns have the advantage of instantly updating the receiver about your products or services in real-time. So if you are looking to escalate your business prospect by greater means, reach out to the best SMS marketing team in UAE.